Lamb campaigns
Spring Lamb 2016
The 2016 Spring Lamb campaign continues the 'You never Lamb alone' platform and highlights lamb's role in a modern and diverse Australia. It proves that there is no other meat that brings people together quite like lamb.
A traditional 30 Second TVC and 90 second online content piece cuts to the chase and addresses the fact that we are a welcoming and inclusive society that loves lamb, by featuring a cast of Aussies from all walks of life, coming together over a lamb barbecue. This content will be supported by a comprehensive media plan to reach Australians in all communities.
The plan uses 2011 Census data to gain an insight into the social fabric of our neighbourhoods and key ethnic groups, and used this data to inform a multi-language News Limited Community Press partnership and high-impact outdoor advertising activity. Focusing on areas with diverse backgrounds, it will spread unique messages linking lamb to diversity e.g. language, sexuality, culture and physical ability. Further embracing unity the lamb message will also be spread across ethnic print press and in language social media (WeChat and Weibo).
Taking the message to the table is a partnership with start-up platform called Feed Up (the Airbnb of food). A month of 'Lamb get-togethers' on this pop-up dining community will literally bring people together over lamb. Chef George Calombaris and a series of influencers will host their events and spread the message across their channels, as they encourage people to get involved.
PR will spread the message of lamb unifying all Australians across earned media, showing how different cultures embrace, share and consume lamb across the country. Research and bespoke Lamb Stories tours will display lamb's cross-cultural role here.
In retail, materials will inspire shoppers pre-store, via catalogue and magazine placements. To drive appetite appeal in store, there will be recipes and visually engaging POS pieces at shelf and on-pack. Exclusive POS suites have also been developed for butchers and grocery stores.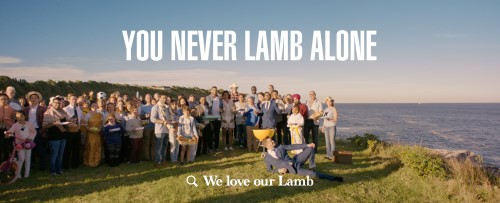 Autumn Lamb 2016
Lamb remains the most loved meat by Australians. It is the one dish that people love to share with friends and family, especially when going back indoors during the cooler months. The autumn campaign demonstrated lamb as the go-to in spontaneous or unpredictable occasions due to its versatility, range and simplicity to cook. Whehter it is a change in the fickle autumn weather or unexpected guests dropping in, lamb has you covered. The campaign launched with a national TV commercial, advertising in shopping centres, social media videos and integrated PR activity.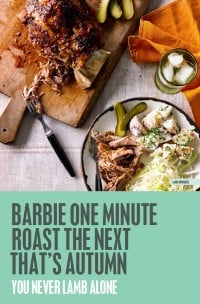 Australia Day 2016
This Year, Lambassador Sam Kekovich is joined by legendary newsreader Lee Lin Chin and a host of Australian icons for 'Operation Boomerang'. Their mission- to save Australians abroad from going without a lamb BBQ on Australia Day.
The Australia Day campaign will be supported on-air via a major radio partnership with Nova FM's Fitzy & Wippa show. Airing from Monday 11th January through to Australia Day, the hosts are showing their commitment to 'Operation Boomerang' by airing from London throughout the first week, and seeking out overseas Australians to be flown home for Australia Day and a lamb BBQ. Additional media spend will also see the ad pushed out across digital, social and TV, whilst PR will spread the message across earned media. In-store, product focused point of sale will deliver lamb BBQ inspiration, focusing on a selection of different cuts.