Market reports & prices
MLA's Market Information Service provides producers with accurate, timely and independent market information, allowing them to make profitable business decisions.
Through the National Livestock Reporting Service, a range of cattle, sheep and goat market statistics are collected every week. These include:
Saleyard prices
Over-the-hooks price indicators
Feeder cattle price indicators
Sheep skin price indicators
Indicative slaughter numbers
For a list of NLRS market indicator specifications, including their frequency of publication, please click here.
Saleyard reports are produced on a daily basis and are available within two hours of the conclusion of the market (for a list of markets currently reported by the NLRS, click here). Over-the-hooks price indicators, feedlot price indicators and indicative slaughter figures are compiled from a range of abattoirs across the eastern states and are published on a Monday afternoon. Skins price indicators are released on Friday afternoon.
Navigate to the latest market reports using the links to the left, or use the search function at the bottom of this page to find historical market reports.
Email subscription service
MLA Market Information also offers a free email subscription service, which delivers market reports directly to your inbox as soon as they are released. To stay informed, contact MLA's Market Information team and request a subscription: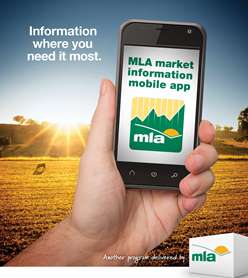 Email: marketinfo@mla.com.au
Phone: (02) 9463 9372
Other ways to access MLA Market Information:
Download the MLA Market Information app (compatible with iPhone, iPad, and iPod touch)
ABC Country Hour reports
Regional newspapers
E-newspapers (Farm Online, Beef Central, Sheep Central, etc)
Landline
Phone-on-Demand service
Search historical market reports
If no results are returned, click here to access the back up system.