Annual reporting
MLA produces the following reports on an annual basis:
MLA annual reports
MLA's Annual report 2016-17 presents MLA's activities, outcomes and financial performance during 2016-17.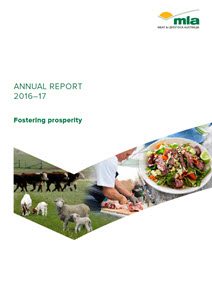 View the Annual Report 2016-17
Read past MLA annual reports:
MLA Annual Investment Plans
MLA's Annual Investment Plan 2018-19 has been developed to inform levy payers, peak industry councils, the Australian Government and the wider industry about MLA's planned work program in 2018-19.
Read past MLA annual operating plans:
MDC Annual Report
MLA Donor Company's (MDC's) Annual Report 2015-16 provides details on MDC's activities and financial position for the 2015-16 financial year.
View MDC's Annual Report 2015-16
This list contains the completed MDC contracts for 2015-16 with links through to the summaries and final report in the MLA final reports database: MLA Donor company final reports 2015-16
Gender equality
MLA lodged a 2014 gender equality annual public report with the Workplace Gender Equality Agency in May 2014.
Join myMLA today
One username and password for key integrity and information Systems (LPA/NVD, NLIS, MSA & LDL).
A personalised online dashboard that provides news, weather, events and R&D tools relevant to you.
Customised market information and analysis.
Already registered for myMLA?