Regional consultation
MLA's regional consultation process empowers grassfed beef and sheepmeat producers to directly influence the on-farm research, development and adoption areas their levies are invested in.
MLA has established this framework to ensure national and regionally-relevant research, development and adoption priorities are identified to deliver optimum value back to grassfed beef and sheepmeat businesses and the red meat industry.
Levies from grainfed beef producers, goatmeat producers and the live export and processing sectors are directed to research, development and adoption projects under existing consultative structures involving peak industry councils.
The regional consultation process has guided grassfed beef and sheepmeat levy investment since 2015 and resulted in:
How can producers be involved?
Extensive consultation lies at the heart of identifying priority areas for research, development and adoption and then selecting relevant projects for funding.

The process starts with grassroots producers, who are encouraged to communicate with one of the 18 regional committees throughout Australia. These independent, producer-driven committees operate under three umbrellas: the North Australia Beef Research Council (NABRC), the Southern Australia Meat Research Council (SAMRC), and the Western Australia Livestock Research Council (WALRC).
The approval process
Priorities identified by producers are consolidated by NABRC, SAMRC and WALRC and then taken to the Red Meat Panel for review and endorsement.
The Red Meat Panel consists of the Chair and a producer member from NABRC and SAMRC, two producer members of WALRC, a representative from Cattle Council of Australia and Sheep Producers Australia and two MLA General Managers. The Panel then provides advice to the MLA Board on the priorities.

Once the priority areas for each financial year are determined, MLA's annual call invites submission of proposals for research, development and adoption projects that are aligned with these priorities for consideration for funding. These proposals can come from individuals, organisations and project teams.

Upon submission, proposals are assessed by panels of northern, southern and western sheepmeat and grassfed beef producers along with MLA staff.

Applicants meeting the selection criteria in stage one of the process are then invited to submit a full proposal.

Stage two of the process sees full proposals assessed for their technical merit by an independent expert panel, chaired by internationally-renowned livestock researcher Professor Alan Bell.

The full proposals are re-assessed by the Red Meat Panel who recommend the highest quality, highest impact projects for MLA to fund.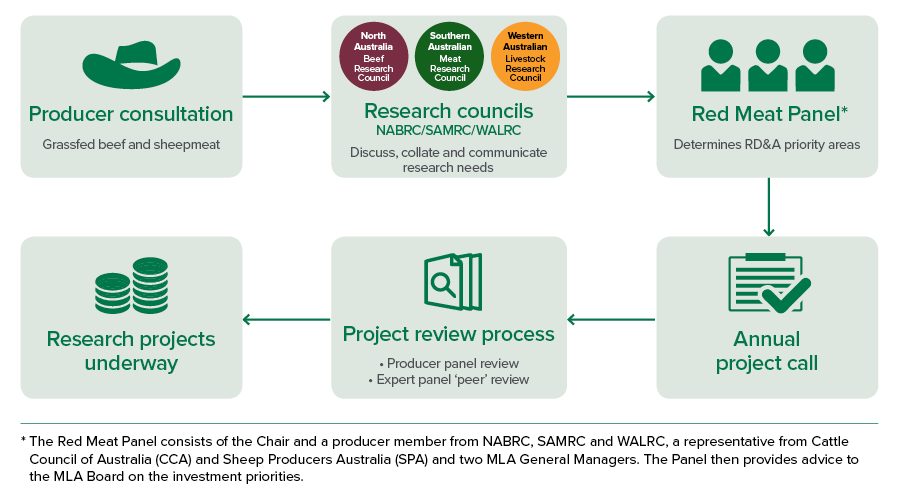 Join myMLA today
One username and password for key integrity and information Systems (LPA/NVD, NLIS, MSA & LDL).
A personalised online dashboard that provides news, weather, events and R&D tools relevant to you.
Customised market information and analysis.
Already registered for myMLA?