Back to

About MLA
Subscribe to MLA's newsletters
Stay informed with the latest red meat and livestock industry news, events, research and marketing.
Sign up
North Australia Beef Research Council (NABRC)
North Australian Beef Research Council (NABRC) provides leadership and advice to organisations who either invest in, or undertake beef cattle research, development and adoption (RD&A) in Queensland, the Northern Territory and the Pilbara and Kimberley regions of Western Australia. An independent organisation, NABRC is made up of producer representatives, research organisations, education providers, and State farming organisations.
The council is underpinned by eleven regional committees chaired by producers who represent their regions at NABRC meetings. The regional committees provide grass roots input to NABRC and are at the heart of its continuing success. Regional committees are made up of producers and local RD&A personnel from a wide range of organisations.
To get involved in NABRC or learn more about activates in your area, contact your regional representative below.
For general enquires to NABRC please email Janine King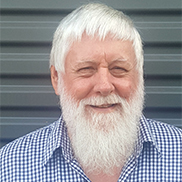 John Taylor, NABRC Chair
John Taylor has had a 30-year career in pasture research and research management with CSIRO, culminating in the position of Chief, CSIRO Tropical Crops and Pastures. John was formerly the Director of Rangelands Australia, and a non-executive director on several not-for-profit organisations supporting development of the grazing industry and natural resource management across rural and remote Australia. As NABRC chair, he brings a strong customer focus, a broad network, systems thinking and skills to engage stakeholders in owning and solving complex problems. Outside of NABRC John is a keen gardener, a doting grandfather and enjoys finding a soft new red to add to his collection.
Geoff Birchnell, South Queensland RBRC Chair
Geoff Birchnell developed a passion for the beef industry at a young age. Today he operates his own beef Angus and Hereford breeding program, 3R Livestock located in Tamworth, NSW. In addition to this pursuit Geoff is a qualified Chartered Accountant with 10+ years advising Producers throughout Northern and Eastern Australia on financial and operational aspects of their farming business. In 2018 he has transition from public practice to a commercial role within a large scale cattle enterprise. Today this role encompasses managing the business, finance and strategic aspects of the business – the latter of which R&D is a core focus. Geoff recognises the opportunity for Australian beef to set the standard across the globe and is passionate about increasing productivity and profitability in the north Australian beef industry.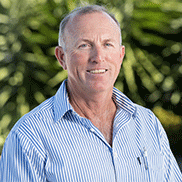 Ian Braithwaite, North West Queensland RBRC Chair
Ian Braithwaite is a production veterinarian with 36 years' experience with cattle and horses under his belt. Gaining his qualifications at St Lucia College in 1981, Ian was a primary player in the eradication of Brucellosis and Tuberculous from the Northern Australian cattle herds and has since worked as an advisor to the northern beef industry. After raising five kids and running his own small Brahman cross property on the Atherton Tablelands, Ian decided to take on the challenge of joining NABRC as the chair of North West QLD RBRC. As the chair, Ian is dedicated to ensuring regional producers have the tools available to make beef production profitable while also determining simplistic ways to address issues affecting the wider region of northern Australia.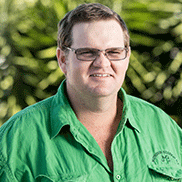 Jay Mohr-Bell, Katherine RBRC Chair
Jay Mohr-Bell's work ethic was instilled in him at an early age. His father taught him dedication and hard work, but also enforced the importance of sitting down for dinner with your family at the end of the day. This ethic has seen Jay, who grew up on a cotton farm in Moree, NSW, hit the ground running as the managing partner of his Brangus operation 'Pancho Beef' South West of Katherine, NT. Representing the top end, Jay has brought a passion and enthusiasm for the NT beef industry to NABRC and has highlighted the importance of advancing research in the areas of breeder productivity, feedbase diversity and whole farm systems to the organisation. With a focus on embryo transfer (ET) and artificial insemination (AI) in his business, Jay looks to produce and sell a quality, sustainable beef commodity which adds value to the red meat industry. And just like his father taught him, after a day working on his property Jay always tries to make it home for dinner.
Kylie Schooley, South East Queensland RBRC Chair
Representing NABRC for the South East QLD region, Kylie Schooley brings with her years of experience in the production industry. Growing up on a property 80km west of Eidsvold, QLD, Kylie had a love of the industry in her blood before heading off to become a veterinarian. Now splitting her time between her Chinchilla vet practice and her breeding and fattening beef operation 'Rocky Springs Cattle Co.' that she co-runs with her husband, Kylie has the best of both worlds. Rarely seen without her shadow 'Daisy' the Dachshund, Kylie fills her spare time trucking her horses around the country with her equestrian daughter, while trying to ensure Rocky Springs is left in a more productive, sustainable condition than when it was purchased. Kylie believes the greatest caveat for change in the beef industry lies in shifting community opinion about welfare and land management and better understanding and preparation for climate variability.
Michael Lyons, North Queensland RBRC Chair
Michael Lyons is a seed stock and commercial beef producer from northern QLD. Growing up on the Charters Towers property 'Wambiana', Michael left for Brisbane to attend university and cut his teeth on a career in tourism and rural business consulting before diving back into the family business. Michael is passionate about improving grazing management and herd genetics for not only his own business, but for the whole northern QLD region. He believes that focussing on these areas will have a compounding benefit to both the ecosystem and the productivity of local properties. Now raising four children with this wife, Michael is focused on improving the land that he grew up on so that 'Wambiana' can continue to be a productive and profitable beef business for generations to come.
Nicole Hayes, Central Australia RBRC Chair
As the RBRC chair for Alice Springs, Nicole is dedicated to raising awareness to the need for alternative water sources, identifying and promoting best practice management for arid zone land use without overstocking or overgrazing and preparing her region for the unpredictable climate. Before marrying her husband, Nicole Hayes was a hairdresser without any real agricultural aspirations. Now, 26 years on, and assistant manager of a poll Hereford grazing enterprise east of Alice Springs, Nicole couldn't imagine doing anything else. In addition to sitting on NABRC, Nicole also belongs to NT Cattleman's association, multiple beef breeds associations and Broken Spur, a men's health organisation.
Nina House, Western Queensland RBRC Chair
Nina House's motto is 'happy healthy cows, produced from happy healthy land, for happy healthy people,' and it's something that she strives for through every aspect of her family business. The Manager of a 100,000 acre Brahman breeding operation in Western QLD, Nina grew up on the land and always knew she would spend her life working on it. As the chair of NABRC Western QLD RBRC, Nina is passionate about understanding production management for drought and climate extremes, understanding pastures and identifying the importance of heat stress on reproduction. When she is not contributing to the red meat industry, you can find Nina either looking after her rangeland goat orphan 'Tiddles' or engrossed in a good murder mystery novel.
Swin Hudson, Central Queensland RBRC Chair
Though he harboured childhood dreams of driving fire engines, deep down Swin Hudson knew he was destined for a life in agriculture. Born and bred on a QLD beef property, Swin has been contributing to the northern Australian red meat industry for over 40 years. Now the operations manager of Tremere Pastoral, a 10,000 hectare mixed farming operation near Moura, central QLD, Swin is focused on providing profitability and sustainability into the future to ensure the industry he loves thrives. As the chair of Central QLD RBRC, Swin hopes to tackle the issue of pasture dieback in his region, ensure production systems are being adapted for climate change and championing the benefits of objective measurements to better meet the grid.
Ben McGlynn, Barkly RBRC Chair
19 years ago Ben McGlynn left Cootamundra, NSW, on a gap year and never looked back. Falling in love with the NT, Ben worked for Stanbroke and Kidman before moving into the management position at Camooweal's 'Rocklands Station', where he has been based for the past three years. Though he still roots for the Blues in the State of Origin, Ben is now fully acclimated to the northern beef industry. As the chair of Barkly RBRC, Ben has advocated for research in the areas of calf loss, water quality and regionally relevant sustainable production techniques. Raising four boys on the 675,000 hectare 'Rocklands Station', Ben is imparting the joys of agriculture on them from a young age and is well on his way to creating another generation of producers.
Kerry "Joe" Paul, Pilbara RBRC Chair
Kerry "Joe" Paul grew up in the pastoral industry on Noreena Downs Station in the Pilbara. Currently joint manager of Noreena with his sister, Joe runs a mix heard of Droughtmasters, Brahmans and shorthorn cattle for the live export and domestic markets. With a passion for the beef industry and an open mind about future markets and how producers need to get ready for them, Joe is in this for the long haul. With a strong belief in the benefits of moving to low stress stock handling practice and the implementation of better animal welfare, Joe is focused on improving management practices on Noreena while also aiming to implement better land management, including the regeneration of pastures. In his role as the Pilbara RBRC chair, Joe will bring his passion for the industry to NABRC, while representing his region.
James Camp, Kimberley RBRC Chair
James Camp is a third generation stockman and was brought up on family-run cattle stations in the Kimberley. He currently manages Kalyeeda station on the Fitzroy River catchment where he is raising his two young sons. A passionate supporter of both the development and conservation of the unique nature of the Northern beef industry, James is driven by a strong interest in progressive land management and research into genetics for improved holistic production that can be sustained long-term. He was drawn to NABRC's collaborative attitude with other facets of farming advocation in the North as he believes this is crucial to good future outcomes.