MLA business units
MLA has a number of business units, each led by a General Manager.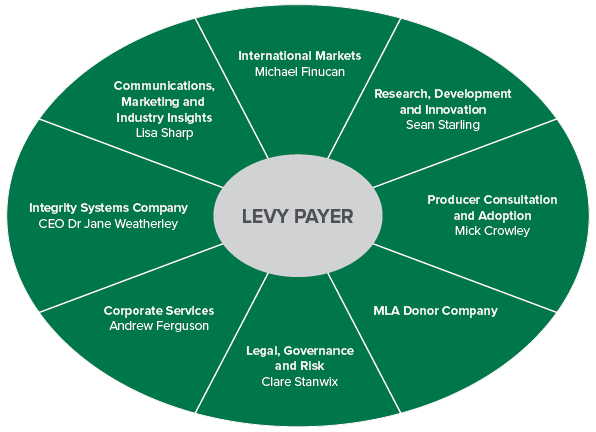 Business unit: Research, Development and Innovation
General Manager: Sean Starling
Roles and responsibilities: MLA's Research, Development and Innovation (RDI) business unit is the research and innovation hub of MLA and is responsible for developing and implementing cutting edge strategies to increase the profitability and sustainability of the red meat industry. RDI utlises both levy and commercial income streams through the MLA Donor Company.
The RDI team deliver research programs, innovation and new technology throughout the red meat value chain to underpin growth and productivity for all participants. Increased interaction and collaboration between on-farm and off-farm components of the value chain is critical to success.
The RDI team focus on animal health and welfare, food safety, the environment, climate variability, land management, production and processing efficiencies, meeting market specifications, positioning red meat value chains for future growth, increasing demand for red meat through new pioneering products and processes and the utilisation of new tools, techniques and technologies.
Business Unit: Producer Consultation and Adoption
General Manager: Michael Crowley
Roles and responsibilities: Working closely with MLA's other business units, the Producer Consultation and Adoption (PCA) team delivers opportunities for the whole supply chain to improve productivity and profitability.
Through the identification of research priorities for the industry, and driving adoption and uptake of research outcomes, the PCA team are focussed on the commercial drivers that improve on farm profitability.
PCA manages MLA's investment in Meat Standards Australia, beef and sheep genetics and genomics and industry consultation through regional research committees.
Key performance indicators include growth of the MSA grading program, reducing eating quality variation and improving consumer perceptions of beef and lamb eating quality, improving genetic gain and improving the impact of the investment in research through adoption.
This team also identifies products and services that will provide producers with increased information to make effective business decisions. This includes a review beef and sheep languages, validation of objective carcase measurements, conduct of the Sheep CRC, investments through the National Livestock Genetics Consortium and development of an integrated information program that allows connections between genetic, carcase and eating quality measurements to assist with value-based marketing.
Business unit: Integrity Systems Company is a fully-owned subsidiary of Meat & Livestock Australia.
Chief Executive Officer: Dr Jane Weatherley
Roles and responsibilities: The creation of the Integrity Systems Company aims to reflect the increased scope of NLIS Limited to form a new subsidiary of MLA. Integrity Systems Company will set the strategic direction for the red meat industry's integrity programs in consultation with SAFEMEAT, carrying full responsibility for delivering to industry. Integrity Systems Company will manage programs including the National Livestock Identification System (NLIS), Livestock Production Assurance (LPA) and National Vendor Declaration (NVD). In addition to maintaining all of the industry integrity systems, Integrity Systems Company will have a broader function to build a fully integrated information platform to deliver MLA's component of the industry's Digital Value Chain Strategy.
The Integrity Systems Company team is responsible for delivering on pillar 3 of the MLA's 2020 strategic plan, namely the KPIs associated with "Livestock and product assurance through integrated integrity systems". The aim is to drive the Digital Value Chain Strategy and enable seamless data capture, integration and interpretation of the vast and increasing range of data that is being generated through new technology.
Integrity Systems Company aims to increase the capacity of all industry participants to embrace new technology and the use of meaningful data in their own business, maximising the information exchange via targeted collaboration across industry and with the world's leading innovation companies.
Business unit: International markets
General manager: Michael Finucan
Roles and responsibilities: Australia exports red meat and livestock to more than 100 countries, representing over 60% of the industry's production. The International Markets team is responsible for favourably positioning Australian red meat through promoting its superior product integrity and positive brand image through the True Aussie positioning.
The International Markets team works in three key areas: Improving and defending market access by supporting trade liberalisation and removing technical trade barriers, growing demand for Australian red meat through delivering business development and brand building activities, and supporting the livestock export industry to meet regulatory requirements to grow sustainably.
MLA has a network of offices and representatives around the globe to deliver on these programs:
North America – Washington DC
Europe – Brussels
Russia – Moscow
Middle East and North Africa – Dubai
Japan – Tokyo
North Asia
South Korea – Seoul
China – Beijing
Taiwan – Representative office Taipai
Southern Asia – Singapore
Indonesia – Jakarta
Philippines – Representative office Manila
Malaysia – Representative office Kuala Lumpur
Vietnam – Ho Chi Min City
Business unit: Communications, marketing and industry insights
General manager: Lisa Sharp
Roles and responsibilities: The team delivers world-class data and insights, marketing strategy and communications for the Australian red meat industry, both domestically and around the globe. Working closely with all elements of the supply chain, data and insights deliver value back to the farm gate. The insight capability and thought leadership contained in this team is designed to position MLA as the expert in the purchasing, eating and cooking habits of shoppers and consumers, as well as domestic and global food trends.
As a business owned by levy payers, it is critical that MLA clearly communicates the strategic direction of the organisation and the value of levy investments to producers and the wider industry.
Business unit: Corporate Services
General manager: Andrew Ferguson
Roles and responsibilities: The Corporate Services team provides operational support services across the spectrum of MLA activities and operations. Key enabling functions that are united under the Corporate Services banner include: Financial Planning & Forecasting; Accounting & Reporting; Evaluation; Information & Communications Systems and Office Services. The Team's number one objective is to deliver best practice support services that are integrated, accessible and technically excellent.
Business Unit: The MLA Donor Company (MDC) is a fully-owned subsidiary of Meat & Livestock Australia.
Roles and responsibilities: The MDC facilitates voluntary investments in R&D innovations across the red meat supply chain. The MDC model injects valuable new investment into red meat industry R&D and commercialisation, with a number of resulting benefits including improved sustainability on and off farm, reduced production costs along the entire value chain leading to a more competitive industry, enhanced supply chain collaboration, new value-added products that facilitate access to new international markets and increased innovation capability.
Join myMLA today
One username and password for key integrity and information Systems (LPA/NVD, NLIS, MSA & LDL).
A personalised online dashboard that provides news, weather, events and R&D tools relevant to you.
Customised market information and analysis.
Already registered for myMLA?