A spelling lesson at Arakoola
Location: Bollon, QLD
Enterprise: Breeder operation turning off yearling steers for restocker and feedlot markets
Producer: Peter, Diana (Tiki) and George North
Soil type: Mix of poplar box and mulga; poplar box and false sandalwood; cypress pine on deep sands; yellowjacket and poplar box; coolibah flood plains
Pasture type: Mulga Mitchell, mulga oats and buffel grasses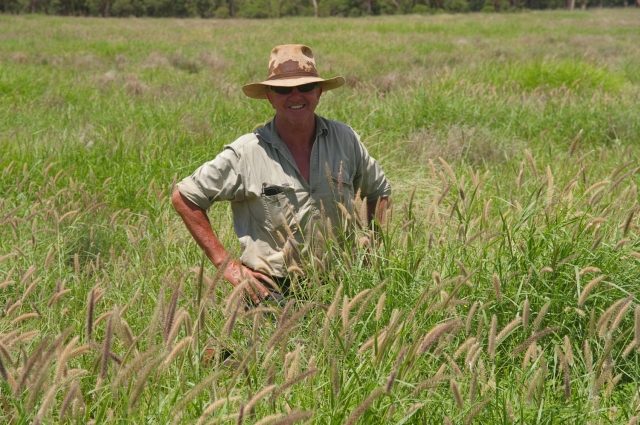 The latest report card on paddock condition on the North family's Bollon property contained mainly A ratings – a turnaround from when C was the average.
Peter, Diana (Tiki) and George North operate a cattle breeding enterprise on 'Arakoola' and have used rotational summer spelling to transform drought-hit degraded pasture into healthy stands of mulga Mitchell, mulga oats and buffel grasses following three good seasons.
"We have focused on maintaining a safe carrying capacity in combination with pasture spelling to improve land condition and rebuild our stock numbers post-drought," Peter said.
"Paddock spelling is now viewed as a necessity on Arakoola and paddocks carrying the greatest number of cattle over the dry season are the first to be locked up in early summer."
Arakoola's paddocks have been assessed under the ABCD land condition framework, where A is good, B is fair, C is poor and D is very poor.
The front paddock, used to grow out steers, looked like a dust bowl in 2007 and was deemed to be in C condition. Features included a general decline in productive grasses, increased density of less-palatable species, exposed bare ground and an increase in the density of woody regrowth.
The paddock's carrying capacity, which had been about 200 weaners before the drought, was halved until the paddock was eventually de-stocked midway through 2007.
Following rain in late 2007, 90 weaners were put back into the paddock, with numbers growing to 130 by mid-2008.
Thanks to the rigorous spelling regime, combined with a run of good seasons, the front paddock is now in A condition, with a good cover of productive grass species.
"We have had abnormally good seasons since being involved in the Climate Savvy Grazing project, so the real test is yet to come," Peter said.
"But I believe the improved land condition means that, even if we were to record just 150mm of rain during the summer wet season, the established pasture would have the capacity to respond and provide sufficient high-quality feed for stock to keep growing."
The stocking rate in the front paddock, now used as a 'transition' paddock for weaner cattle, far exceeds pre-drought numbers.
Bollon, QLD
View larger map
Join myMLA today
One username and password for key integrity and information Systems (LPA/NVD, NLIS, MSA & LDL).
A personalised online dashboard that provides news, weather, events and R&D tools relevant to you.
Customised market information and analysis.
Already registered for myMLA?