The weighing game
Location: Callawadda, VIC
Enterprise: Dual purpose meat and wool Merino flock and broadacre cropping
Producer: Jock and Maree McGregor
Soil type: Varies from friable black to gravelly soils
Pasture type: Medic clover and ryegrass and dryland lucerne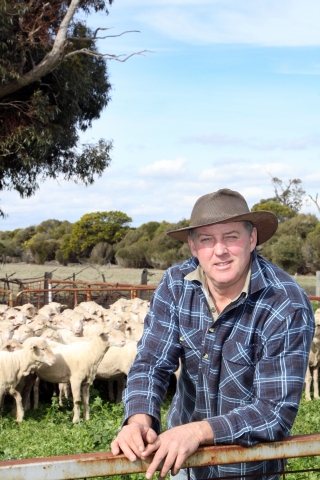 Participating in a MLA-funded producer demonstration site (PDS) program into joining ewe lambs has shown Victorian producer Jock McGregor the potential benefits of having Merino ewes in full production a year earlier than usual.
His three years of data, however, has also given him an insight into how challenging it can be to achieve good conception in Merino ewe-lambs, especially in tough seasons.
"You can certainly pick up income, with the main benefit coming in the second year when we have been able to mark over 120% of lambs out of ewes that, if they hadn't been joined as lambs themselves, would still have been coming into production as maidens,'' Jock said.
"But from my experience joining ewe lambs wouldn't be for everyone as it requires a reasonable amount of time and work.''
Gathering data
The McGregors are one of 15 Victorian enterprises participating in the three-year PDS which has collected information on nearly 20,000 ewe lambs to create best practice guidelines for the industry.
"A lot seems to hinge on body weight, and if you are not close to the mark on body weight you are not going to do any good with conception – our figures from 2011 tell you that,'' he said.
The McGregors begin lambing each year on 1 September, meaning spring and summer feed conditions play a big role before joining the ewe-lambs in April at eight months of age.
In 2010, when summer rains kept feed green, 256 ewe lambs were joined and at pregnancy scanning had a 90% conception rate. The ewe lambs had weighed an average of 40kg and were condition score 3 plus.
In 2011, when the season was much drier, the ewe-lambs lacked maturity and averaged less than 38kg at joining and conception rates fell to 56%.
This year the McGregors opted to put their ewe-lambs into a feedlot, generally used each year to finish their Merino wether lamb portion.
Jock said the 739 ewe lambs were fed for 10-weeks over the joining period on an 80/20 mix of barley and lentils at a cost of about $30 a head. At joining, the lambs averaged 39kg and condition score 3 to 3.2, and returned a conception rate of 78%.
Jock said he wouldn't necessarily join ewe lambs every year, but rather would let seasons and economics dictate.
Callawadda, VIC
View larger map
Join myMLA today
One username and password for key integrity and information Systems (LPA/NVD, NLIS, MSA & LDL).
A personalised online dashboard that provides news, weather, events and R&D tools relevant to you.
Customised market information and analysis.
Already registered for myMLA?