Education Material
It's easy to complain that city people don't understand about life on the farm or the issues of agriculture. It's also frustrating to see in incorrect information in the media, but unless we correct this information ourselves how will the situation change?
It can be as simple as sending a quick email or making a few phone calls to your network of city friends if you see something in the media that is incorrect.
Marketers know that 'word of mouth' is the most trusted and effective form of communication and it's something that producers can easily do. Every time you tell five people something, they are likely to tell more people and so on. So rather than just being frustrated tell people what is really happening.
Available resources
Virtual farm - a free online resource for teachers to showcase what happens on beef and sheep farms in Australia. Let your local school, as well as your city friends, know that the resource exist for a range of syllabus areas at www.mla.com.au/virtualfarm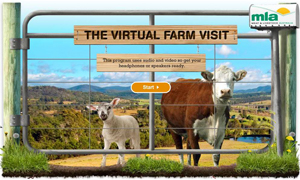 Join myMLA today
One username and password for key integrity and information Systems (LPA/NVD, NLIS, MSA & LDL).
A personalised online dashboard that provides news, weather, events and R&D tools relevant to you.
Customised market information and analysis.
Already registered for myMLA?