Getting started on Facebook
Facebook is the most popular social network in the world, and with over 1 billion active users, it's impossible to ignore.
What makes Facebook unique is its intrinsic social nature - content is shared amongst friends, and friends of friends, which makes it possible for news and information to travel quickly around the globe, and personalised at each and every turn.
According to Facebook, the average user has around 250 "connections" or "friends" in their network. Therefore, if you were an average user and you publish something on Facebook, 250 people could theoretically see it straight away. However, if those people decide that they "like" what you've posted and share it around to their friends intheir network, then the number jumps dramatically - 250 people, each with 250 friends, would give you a potential reach of over 60,000 people. And if those friends shared it again, the number increases exponentially.

You may have heard the phrase 'going viral' – that is, something on Facebook is being shared again and again and, as a result, is reaching more and more people. Stories or content that have a human interest, that either reach us emotionally or tickle our funny bone, are highly likely to be shared - and the more they are shared, the more people they can reach.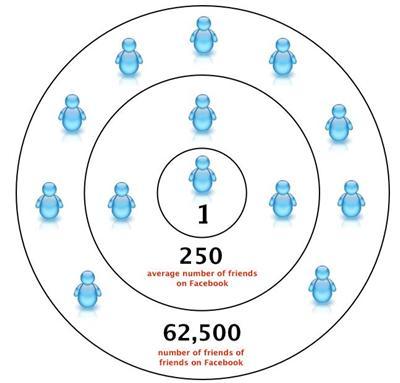 With you at the centre, content that it is shared or 'passed on' by your friends and connections on Facebook has the potential to reach tens of thousands people rapidly.


There are three important facets on Facebook - Profiles, Pages and Groups.
1. Profiles
Everyone on Facebook has to have an individual Profile. That's an account that's unique to you, that has your real name and real information about yourself. Depending on how you intend to use social media, you may wish to keep your personal life private and only communicate either as your business or as a service professional.
Facebook understands this, and the site allows you to easily control the people can view your profile. If you so desire, you can lock your profile such that no one, or at least only your immediate friends and family, can see what you publish in your personal Profile.
2. Pages
It is important to draw clear distinctions and boundaries between your public and private presence on Facebook, particularly if you don't want your personal content to be 'visible' to business contacts and networks.
There's a simple way to do this, as Facebook provides a feature called Pages that are specifically designed for businesses and organisations. In basic terms, your 'Profile' should be exposed to only your friends and family, whereas by default anyone can see your 'Page' for your business.
3. Groups
If you're involved in a particular social or community group, or want to have a discussion about a topic with like-minded people. The best way to do this is to join or start a Facebook Group. These can be incredibly useful as they offer a place to have conversations with people who are passionate about the same things as you are. Groups can also be private, so you can also have conversations without anyone else on Facebook being privy to topics under discussion.
Facebook Pages are where we recommend you focus your activity. This is your public space on Facebook where you can tell your story, promote your business and have conversations with your readers.
Creating a Page on Facebook
As mentioned above, before you can do anything on Facebook, you must create a Profile. Irrespective of whether you use this later on not, it has to be done before you can create a Page. Remember, you can keep your Profile completely private - or, indeed, never use it at all after it has been created.
To start a Page, go to www.facebook.com/pages and click 'Create Page'.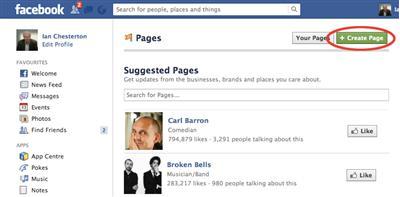 There you'll be offered a series of choices that define your type of business. We recommend that your choose 'Company, organisation or institution' on the top row, as it is the only one of the six business types that includes an option for 'Farming & Agriculture' (see below)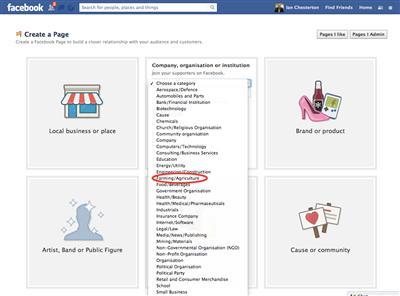 Thereafter, you will be prompted to complete a series of questions about yourself. You'll be asked to write a short description, choose an address for your page (usually www.facebook.com/yourbusinessname), upload a logo (or a small picture that identifies your Page when using Facebook) and a Cover Photo (the large picture that sits at the top of your page).
All these prompts should be relatively self-explanatory, however Facebook has a good support service at www.facebook.com/help if you lose your way or need extra assistance.
What to post on your Facebook Page
Writing a comment or an update your Page, uploading a photograph or sharing a link – whatever you decide to share, this is commonly known as a "post", and this action is often referred to as "posting on Facebook".
The trick to being successful on Facebook is to post interesting content and to post it regularly. Remember, social media only really works when the things you post are shared or passed around by readers. The question you need to ask is - what are my readers interested in? What stories or information is valuable to them? What are they looking for?
If ultimately your audience is the end consumer - people who will be making decisions about what food to buy when shopping - the sorts of things they'll want to know is: where does my food come from? Who was the farmer or the producer responsible? How well do they look after their livestock? What sort of practices do they undertake? How sustainable are their techniques? ... And so on. Consumers are increasingly interested in the whole story - who you are and what you believe in will often be just as important as the quality of the product itself.
More practically, a post can take the form of a piece of news, a link to a new post on your web site or blog, a short commentary on an article or a web site that you like, or maybe a photograph of something interesting happening on your property. If you want to get a handle on what to post, have a look at what other like-minded businesses are doing on Facebook - what do you like on their Page? What sort of content on their Page has managed to get the best response from Facebook users?
Handling comments on Facebook
Bear in mind that Facebook is a 'social' network - if anyone posts a comment on any of your posts, do make sure you post a reply, even if it's just to say thank you. And don't be too afraid if someone posts a comment that's isn't 100% positive - that's all part of the conversation.
Imagine you'd met a friend of a friend at the pub or at their house - even if they don't agree with your point of view, it's common courtesy to keep a clear head, be considerate to their views and ensure that your reply includes ideas and information that backs up your case, or helps to otherwise inform their opinions. We can't expect everyone to always agree with us, but we can do our level best to get our point of view across in a rational and interesting manner.
Facebook is all about connecting and talking to people - stay engaged, be interesting and be friendly, and you'll soon start to see some great results for your business.
Join myMLA today
One username and password for key integrity and information Systems (LPA/NVD, NLIS, MSA & LDL).
A personalised online dashboard that provides news, weather, events and R&D tools relevant to you.
Customised market information and analysis.
Already registered for myMLA?