How To Start A Blog
Blogs are arguably the cornerstone of all social media, being one of the early ways in which people published personal web sites and entered into conversations with their readers and their community.
What is a blog?
The word blog is derived from the term 'web log'. In their earliest incarnation, blogs were simple online journals or diaries, allowing people to publish their thoughts and opinions on a regular basis. This was quite a breakthrough, as before blogs came along, it was very difficult to post anything on the web without having technical skills – whereas blogs made this process easy. More importantly, web sites until then were very rarely updated (once every few months perhaps in many cases), whereas blogs could easily be updated on demand - every day, every hour, whenever the mood took you.
These days, most web sites are built with this type of capability – so you will often find blogs included as part of a bigger web site. That is, there's a part of the web site that functions like a diary or a journal (the blog), and the rest of the web site (its pages) is less frequently updated, usually including promotional or marketing information.
Web sites often represent a static fixed point in time, only ever really updated when facts change or a new product or service is available. Like a brochure, they often offer no facility to engage or interact, certainly not to leave open comments on any pages. A blog, on the other hand, is always evolving, always being added to, and always encouraging discussion and interaction through new content. The more content you add, the more interesting and influential your business becomes.
If you've read all of our articles in this series, you'll understand how important it is to tell an authentic and real story on social media. Knowing that blogs functions much like diaries of journals might give you a clue as to why we think they're an important part of the mix. A journal is a great place to tell your story on an ongoing basis, to share your thoughts and opinions and to let other people inside 'your world'.
It's no surprise then that blogs have empowered millions of bloggers around the world to have their say and share their ideas. They provide a 'home' for your online activity – a place on the internet that you can call your own.
Blogs not only allow you to publish whatever you want, whenever you want, they are also inherently social - all blogs allow readers to post comments and opinions about what's being said. Unlike web sites, blogs are generally considered to be all about creating relationships with readers, about opening a 'dialogue' - you are publishing content that encourages people to respond and to share.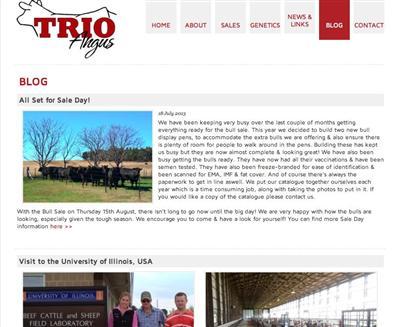 The Trio Angus blog tells the 'inside story' of Sam & Meg Piper's Angus business and sits alongside their main web site, which features pages on topics such as Sales and Genetics.
How to get started with your blog
Before you get started, it's a good idea to have drafted more than one blog post – think ahead and write two or three, and post some of them later. That way, you'll get over the classic writers block syndrome – you'll have already written posts that you'll publish next week, something 'up your sleeve' to help keep momentum going.
In our article 'Telling Your Story', we discuss a number of ideas you might want to consider before writing your first blog post. How do you introduce yourself to your readers? Who are your readers, and what might interest them? What are you passionate about? How might you schedule your blog posts all year round? These, and many more like them, are good questions to ask before committing to your first post, and should also provide a touchstone for you should you get stuck at a later date.
You should also take time to read other blogs, particularly those who have similar interests and passions. The MLA has a great resource that lists many of Australian agricultural bloggers, all of whom are doing terrific work acting as advocates for the industry. You can find the list of Australian agricultural bloggers here.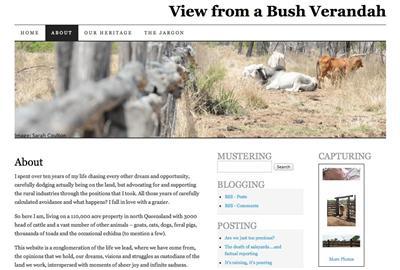 Shelly Joy's blog is called View from a Bush Verandah and tells the story of her life on a 110,000 acre property in north Queensland with 3000 head of cattle.
It's worth noting that a blog is a long-term investment of your time and energy. It's not something to undertake lightly, and requires a regular commitment if you're to be successful. If you're unsure about whether to get started, use Facebook as a testing ground for posting regular content updates, and see whether you can maintain the momentum over a reasonable period of time. If you find that you can, and you – and your readers - are getting a great deal out of it, then you're ready to start your blog.
Blogs, Google and Search Engine Optimisation
Have you ever Googled yourself or your business? Are you on the first page? You might well be, depending on how common your business name is. However, try searching for a phrase or keywords that consumers might associatewith your business - what would they type into Google to find a business like yours? They might search for 'australian livestock', 'cattle stations Queensland', 'sheep farming' or a similar phrase. How does your web site fare then?
If you want your business to appear on the list of Google search results, and appear on the first page, be aware that it's a numbers game - the more times you reference those very same words or phrases that people are searching for, and you do so in the context of all aspects of your business, the greater the chance of getting a good result on Google.
As we've noted, a blog keeps adding new pages all the time, with fresh, current content, which means that it is always adding more words or phrases for Google to find. A blog therefore stands a far greater chance of getting a good result on Google than a static web site with a few pages that haven't been updated in a while.
Understanding this, and matching your blog content to what your readers are searching for, is called 'search engine optimisation'. It might sound complicated, but the theory is simple – give your readers what they want, and Google will bring them straight to you.
How do you know it's working?
Blogs on Wordpress.com (and most other blog services) come with built-in statistics, which give you an indication of who's looking at your web site, and what pages are popular. These tools will also highlight key words and phrases that people searched for on Google that led them to your blog.
It's important to keep coming back to these statistics to get an idea of what people are reading so you can base your future decisions on what people click or don't click. This intelligence will be useful not just on your blog, but might well inform your whole social media approach.
Finally, bear in mind that very few blogs become popular straight away, but by posting on a regular basis, and promoting your posts on Facebook and Twitter, you'll soon start to build a small community of readers that will help you on your way.
Join myMLA today
One username and password for key integrity and information Systems (LPA/NVD, NLIS, MSA & LDL).
A personalised online dashboard that provides news, weather, events and R&D tools relevant to you.
Customised market information and analysis.
Already registered for myMLA?