Introduction to Social Media
If you're new to social media, then it can seem like a confusing place. You might have heard stories from friends about why they do or don't use Facebook; you might have heard some stories on the news talking about Twitter; or you might have been sent a link to watch something on YouTube.
Chances are, you might well have dabbled in social media, but this series of articles from MLA is about helping you to understand it better. In this introduction, we're going to start by looking at what social media really is, why it's important, and how it differs from traditional media that we're used to.
It's important to note right from the start that whilst sites like Facebook are great for keeping in touch with friends and family, we're looking to help you use social media for your agri-business - whether that's talking directly to a specific market of buyers or partners, or discussing agricultural issues more broadly with general consumers.
What does "social media" really mean?
Take a moment to consider the phrase "social media": the clue is in the name. We're dealing with media (words, images or videos) that is 'socially' shared - that is, talked about and passed around. Before the internet came along, we might have shared a newspaper with someone in the same house, or talked about something we saw on television when we were at a friend's house, but that's about as 'social' as media ever got.
Now, with a simple click, we can share the same things (those same stories, ideas and opinions) with hundreds or thousands of people instantly. Responses and discussions are now shared able to be shared more widely, out in the open, which encourages more and more people to join in. Before we know it, stories and ideas that were once shared between two or three people, are now shared by people all around the country, or even around the world.
However, because we're sharing in this social way, we're also adding on an extra layer of our own opinion - we generally make a comment, or in some way adding an opinion, and in doing so, we're effectively marking something as being important to us. We are creating a public scrapbook of things that we've found and shared online, with our own opinion and commentary added in. And this doesn't just exist in one place - it's often spread across a number of different web sites - such as blogs, Facebook, Twitter, YouTube and more.
Social media is overtaking television, newspapers and radio.
Consider this, we're sharing social media first and foremost with people we know and, therefore, people we trust. If we see that a friend or a family member has shared and commented on a news story about a particular topic, we will pay attention to it as we value their ideas and opinions. This means that friends, families, colleagues or acquaintances - our social network - are now in a greater position to influence our thinking than ever before.

Social media is therefore having a very important effect. As we now gravitate towards the media, stories, ideas and opinions shared by our social network, our 'trust' in newspapers, television, marketing and advertising is falling - we're increasingly placing more trust in recommendations and opinions from people we know.
This impact is being strongly felt by companies, organisations or institutions that used to rely on newspapers, television, marketing and advertising to spread their messages. As you can see below, our time spent online is far greater than our time spent with 'traditional' media.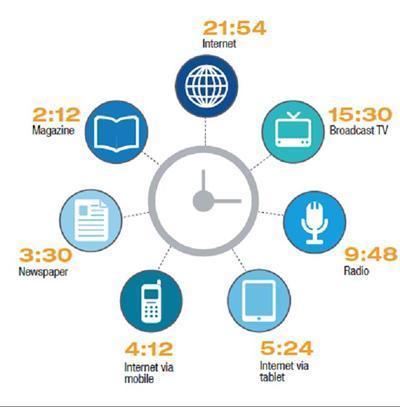 This diagram shows the amount of time the average Australian spends with each media in any given week. As you can see, internet outstrips traditional media such as television and radio; and accessing internet via tablets and mobile is also now a commonplace activity.
Source: Nielsen, Australian Online Population, 2011
It's therefore no surprise that as our time spent with traditional media declines; our 'trust' in that media is also falling. In fact, recent studies – such as the research shown below from Nielsen - suggest that not only do we place the highest value in the opinions of friends and family, but that any ideas, stories and comments from complete strangers are actually considered more trustworthy than editorial found in newspapers, television or advertising.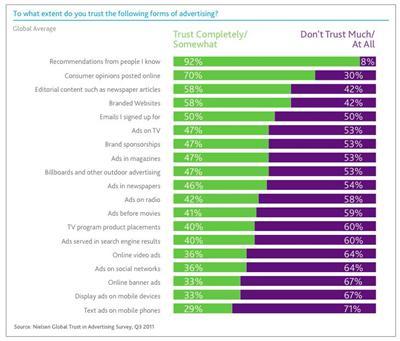 This diagram shows the types of persuasive techniques that we trust the most, and compares various advertising, promotional and editorial types across all media. As you can see, we trust 'Recommendations from people we know' and even any 'Consumer opinions posted online' more than we do 'Editorial content in newspapers' or advertising in any format.
Source: Nielsen Trust In Advertising 2012
As you can imagine, all of this has had a profound effect on business worldwide. There's no longer one single story about companies, brands or businesses - there are many stories, many points of view, some good, and some bad. Anyone and everyone who comes into contact with them has an opinion, and often wants to share that opinion.
How social media can help us in the agriculture industry
Whilst there are some clear advantages to this, there are also some danger signs - how do we know that social media is truthful or accurate? In many respects that's the heart of the issue - when people go looking for information around red meat, livestock and the food industry more generally, do they find the right answers? When consumers want to know how their dinner gets from paddock to plate, whom do they turn to? When schools and colleges need ideas, stories and information for their lessons, where do they go? And when a sensitive issue flares up, where do people turn for a balanced opinion?
The key in participating in social media is helping consumers get to the real story, and to have a real conversation - one that is genuine and authentic and free from spin. If you can offer yourself as a voice of experience and authority, someone who can help to provide real insights into red meat and livestock production - all of that is good for business.
Social media really works for you when people find your contributions valuable - and so when considering how to take part in social media, you need to put your target audience front and centre. Consumers are looking for much more than just the product you sell or service you provide, they are looking to make an informed choice and to feel good about it.
However, because many other groups - sometimes with an opposing point of view - are more active on social media already, the good news stories and compelling initiatives from within our industry are sometime overlooked.
By reading this series of articles on the MLA web site, you'll be taking the time to understand how social media works, and we'll teach you how to have a greater say in ideas and opinions that are shared online. If you can do this, you can help yourself, help your industry and - most importantly - help your business to grow and to evolve.
Join myMLA today
One username and password for key integrity and information Systems (LPA/NVD, NLIS, MSA & LDL).
A personalised online dashboard that provides news, weather, events and R&D tools relevant to you.
Customised market information and analysis.
Already registered for myMLA?