Back to

Marketing beef & lamb
Join myMLA
One username and password for key integrity and information Systems (LPA/NVD, NLIS, MSA & LDL).
Sign Up
Meet the butchers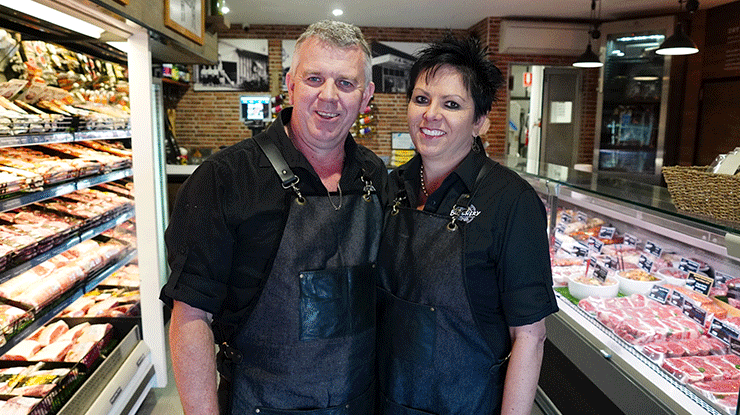 Rod & Julie Leaver, Edge Hill Butchery, Cairns

The historic Edge Hill Butchery has been a Cairns institution since 1925. Three years ago, Rod and Julie Leaver bought the business, transforming it into a destination for local and visiting foodies. Red Meat Round-Up talks to Rod and Julie about their approach to operating one of North Queensland's busiest butcher shops.
Q: What was your vision for the butcher shop when you took over the reins?
A: Purchasing a business which had been in the same family for 70 years had its challenges as in that time, it had not been modernised at all. We wanted to modernise but keep with the original charm, so our goal was to restore the butcher shop and embrace the history. And by doing this we created an intimate and welcoming environment to shop.
The shop has a very boutique feel in a village setting. It's tucked away in nice little area where people are happy to walk to the shop and have a coffee in the local café.
Q: Your produce is 'sourced exclusively from ethical Australian farms' – can you tell us about where you source your beef and lamb from, and why provenance is important?
A: We find our customers are very aware of beef brands, and it's what they chase. As consumers get savvier or people move here from other areas, they're starting to learn about brands, quality and what different brands offer.
We stock Cape Grim Tasmanian grass-fed beef, with a marble score ranging from 2 to 4, and Rangers Valley Wagyu, Black Onyx and Jack's Creek.
The cost of freight to North Queensland and the volume you have to buy means we're going that extra mile to source those brands, but it definitely works for us. We sell a lot of Rangers Valley briskets and ribs to the 'low and slow' customers now. They're happy to pay extra knowing they're going to get a product that cooks better, eats better and is well worth it.
We installed a dry ager last year and we stock it only with Jack's Creek Wagyu and Angus. We don't age anything less than 35 days, but we have trouble keeping it full because of the demand from customers. It speaks for itself and when you use a good product, it makes our job easy.
All of our lamb is sourced from Victoria, and is all grass-fed. We buy a lot of Sovereign Lamb because it's export quality. I think we are virtually the furthest store north that stocks it.
It's a point of difference for us to stock all of those brands and we get repeat business because of it. For example, we supply a lot of the privately-owned superyachts that come into Cairns throughout the year. The chefs on the boats are very familiar with brands and are very specific about what they want. They want to see inside our cold rooms and are very particular about the way the meat is presented and packaged.
Q: What are some of the new cuts or emerging trends your customers are asking for?
A: The Asian market is massive. We do rib fillet and pork and cut a lot of freshly cut ox tongue for Korean barbecue.
Apart from cuts for slow cooking, I would have to say dry ageing is becoming a real trend now. We're very lucky that there are a couple of big hotel chains in Cairns that have installed dry agers for their restaurants and that's certainly bringing more awareness to people.
Q: What are your bestselling beef and lamb products?
A: For beef, it's the top-shelf steaks – eye fillet, followed by sirloin and rib fillet.
For lamb, we sell a lot of lamb cutlets and we do buy in a lot of extra middles. We also do a seasoned butterfly lamb leg with rosemary, thyme, garlic and olive oil that's very popular.
Q: What do you believe are the keys to running a successful independent butcher shop?
A: We're very fussy about how the shop looks and you've got to have excellent customer service. Our daughter works with us, and we have another staff member on customer service who are very understanding, nothing is a hassle. We walk bags out to cars for customers, it's very personal. We would probably know 90% of our customers' names.
We carry many different flavours of sausages. We won the Queensland Sausage King Best Gourmet Sausage 2018 for our Canadian Maple and smoky bacon and placed third in Australia. We've also previously won for our pork, beef and Italian, and chicken sausages. So far in 2019, we have won regional prizes for our lamb sausages and gourmet Wagyu burgers.
We've also diversified into cheeses, deli lines, and gourmet condiments, and that has grown incredibly. We source cheeses from Tasmania and South Australia. We also have a wine licence.
We also sell Gelista gelato from South Australia. I always said if we didn't have a butcher shop, I'd like to have an ice-cream shop, and so it started out as something fun at Christmas time because it's so hot here, but now we are buying in 400 tubs at a time.
Some customers don't even buy meat - they come in and buy gourmet products. It's not all about steak and chops anymore and we're attracting a bigger market as a result of that.