Target 100
MLA has developed the Target 100 program to showcase the red meat industry's environmental and animal welfare credentials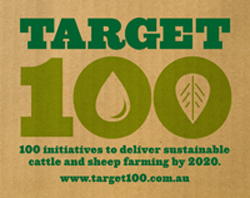 . Target 100 consists of the website, social media and events to enable discussions between industry and people interested in finding out about sustainability in the Australian beef and lamb industry.
Target 100 requires as many 'real life' producer stories as possible to demonstrate how the industry as a whole is committed to managing our resources sustainably.
Get involved
To be involved all you need to do is:
In a few sentences, tell us what you have done on your property to improve natural resource management - such as fencing off watercourses, changing stocking rates, setting aside areas for conservation, etc. No matter how big or small it is we want to know.
Include a photo of you and your family on the property.
Upload this information on the Target 100 website
More information
www.youtube.com.au/Target100AUS
Join myMLA today
One username and password for key integrity and information Systems (LPA/NVD, NLIS, MSA & LDL).
A personalised online dashboard that provides news, weather, events and R&D tools relevant to you.
Customised market information and analysis.
Already registered for myMLA?