NLIS technical support
I've received a 'Warning' email from the NLIS Database. Why did I get it?
These messages are generated automatically by the NLIS Database when a discrepancy arises in an animal's movement history.
The fact that you have received this email message indicates that your PIC is featured somewhere in the animal's life history.
Below is an example of the type of situation that will generate a 'Warning' email: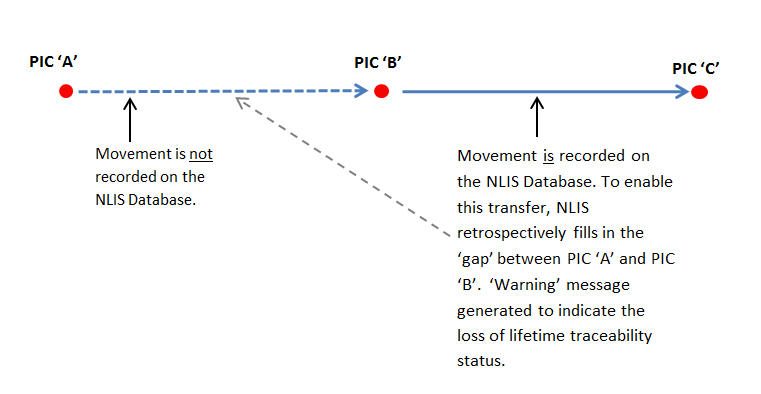 You are not required to do anything in response to this email; however the email contains valuable information to assist you in investigating the message, such as the PICs involved. These PICs can be investigated on the NLIS PIC register to determine the entities involved.
Reconciling the devices that are physically on your property against the devices registered to your NLIS Database account may be of assistance. If you would like to run a PIC reconciliation transaction, click here to log in to the NLIS database.
For more information on any 'Warning' emails you have received, please contact the NLIS Helpdesk on 1800 654 743, or via support@nlis.com.au between 9am and 5pm (AEST), Monday to Friday.
Please have the email you received handy when you call.
I'm having trouble logging in. How do I reset my password/retrieve my username?
You can recover your NLIS user ID and password here.
My upload to the NLIS database failed/was rejected. How do I fix it?
If your upload has failed or was rejected, please refer to the related Help Tools on the NLIS database for the transaction.
If you still encounter issues please contact the NLIS Helpdesk on 1800 654 743, between 9am and 5pm (AEST) Monday to Friday, please have the relevant NLIS user ID handy when you call.
Alternatively, the NLIS Helpdesk can be emailed at support@nlis.com.au
Join myMLA today
One username and password for key integrity and information Systems (LPA/NVD, NLIS, MSA & LDL).
A personalised online dashboard that provides news, weather, events and R&D tools relevant to you.
Customised market information and analysis.
Already registered for myMLA?