A powerful recipe
08 June 2017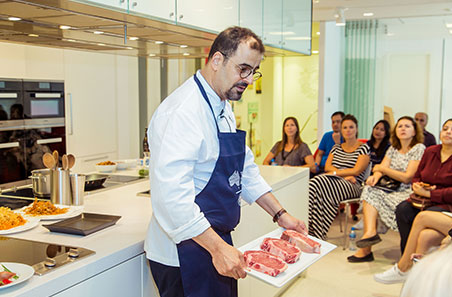 Getting Australian beef and lamb onto the plates of consumers in restaurants and other foodservice outlets is a key focus of MLA's international markets team. However, it's not an easy task with restaurants and chefs having to juggle costs, ease of cooking, new trends and discerning consumer needs.
A key pathway to positioning Australian product on foodservice menus is to get chefs engaged with the story of Australian red meat and trialling the product on their menus. Whether it's a premium five star restaurant, a family steakhouse chain or a catering company, it is critical to have chefs informed and engaged about the products they are using.
MLA runs a range of strategies to engage chefs in global markets:
Immersions: These involve working with small numbers of selected chefs where MLA spends a day telling them the Australian story and getting the product into their hands to work with and explore culinary creativity.
Chef tables: These involve MLA providing technical expertise to a group of chefs to build their knowledge and awareness of how to use Australian products on their menus.
Chef competitions: MLA sponsors chef events where Australian product can be used by a wide range of chefs and receive exposure from a broader network of chefs.
Another key reason to engage with chefs is they become key opinion leaders or spokespeople for Australian red meat. MLA is able to leverage their existing networks and profiles to build increased awareness of using Australian products. This is particularly important in Asia and the Middle East where local chefs can integrate Australian beef and lamb into local dishes and demonstrate the versatility of Australian red meat.
Here are two examples of MLA's recent work with chefs to help grow demand for Australian red meat.
Chef immersions
MLA's 'chef immersions' are held around the US with small targeted groups of 15-20 chefs. It is a fast-paced mix of classroom education about Aussie beef and lamb – its production, sustainability and quality credentials – followed by an overview of food and flavour trends, then culinary and butchery demonstrations, capped off with hands-on cooking with Aussie beef and lamb.
The key to the success of these events is in part their intimacy, where chefs are away from the distractions of their own kitchens and offices, or a busy tradeshow floor. They make new acquaintances and get to experience the 'True Aussie' difference. Most importantly, it allows MLA to target specific chefs who influence their peers, command large purchase volumes, and operate in segments of the market that are the best fits for Australian red meat.
In 2016, MLA's four immersions attracted 61 chefs, representing more than 2,000 restaurant locations as well as commercial catering operators that collectively oversee more than 9,000 business, healthcare, and college and university dining operations in the US.
The immersion experience is proving successful in converting awareness and understanding into trial, use and purchase. In fact, on average around 70% of the "graduates" from MLA's immersion programs go on to trial product. For chefs, who are most concerned with how beef and lamb taste, and how the livestock were raised, this is the pathway to purchase. It's why 65% of those who trial product end up adding it to the menu and for 40%, it is a permanent menu addition.
Good magazine collaboration
In the UAE, MLA recently collaborated with Good magazine on a 'meat masterclass' cooking demonstration event.
Good is a UAE-based lifestyle consumer magazine with a reader profile of 15,000 female household decision makers aged over 26 years of age who have high discretionary income and buy based on value (quality, taste, origin). Good magazine provided MLA with a targeted 'foodie' guest list which included food bloggers and influencers.
At the event, MLA's Chef Tarek talked about identifying different meat cuts and how to cook the perfect steak. The demonstration included cooking different steak cuts with guests tasting the samples, then serving a dish of slow cooked beef cheeks with cauliflower puree. The event included a strong social media element, as well as a chef profile and 'True Aussie' advertising in the May and June issues of the magazine. Tarek made a great connection with the audience and anecdotal feedback at the event was excellent.
More information
Chef immersion – Catherine Golding, MLA Business Development Manager – North America cgolding@mla.com.au
Good magazine collaboration – David Beatty, MLA International Business Manager – Middle East/North Africa dbeatty@mla.com.au
Join myMLA today
One username and password for key integrity and information Systems (LPA/NVD, NLIS, MSA & LDL).
A personalised online dashboard that provides news, weather, events and R&D tools relevant to you.
Customised market information and analysis.
Already registered for myMLA?