A road map for the ups and downs
10 March 2017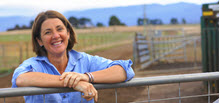 Family farming often means dealing with curve balls, but for Tasmanian cattle producer Alison Napier, a traumatic event left her having to navigate unchartered territory. Today she can reflect on how she used planning, skills development and a range of resources to establish a new path with direction.
When her husband, Alan, took his own life in 2009, Alison was left with three primary school-aged children to raise and a livestock business to run. As she told the 2016 MLA-sponsored Tasmanian Red Meat Update, her approach to taking over the day-to-day management of an enterprise she'd only been involved with at a business level was to get back to basics.
"For me, my business is about managing my people, my grass, my livestock and my budget," Alison said. "But I never lose sight of the bigger picture."
Alison grew up on a family farm on the east coast of Tasmania and has a tertiary background in education. Although she worked with Alan on the business, having three small children and a teaching position at the local school meant she didn't work on-farm at an operational level.
"Fortunately, we'd been involved for a number of years in the RCS ExecutiveLink process, which was fundamental in us taking a strategic approach to our business," Alison said.
"The things that were important to Alan and I then remain important to me now: to have clear business and personal goals and objectives."
In the beginning
Alison acknowledged that she was thrown in the deep end, with plenty of gaps in her knowledge.
"I quickly identified a need to develop not only my own knowledge and skills, but a professional support network - a structure of people involved in my business across all levels, including advisers, consultants, livestock agents and staff," she said.
She also sought support from an informal network including family, neighbours, friends and other business operators.
"I had to ask a lot of questions and get advice from my network, because I was suddenly running a business that wasn't my specific area of expertise.
"To ensure I communicated consistent messages across my support networks, I put in place clear and documented formal procedures, processes and strategies, which helped me get everything out of my head and onto paper."
Seven years down the track, this level of formality and clearly articulating and writing down goals and objectives continues to support Alison's decision making.
"I ask myself: 'Does it fit within my goals? Does it fit in with the way I want to run my business?' My core objectives are a filter for all of the information that comes in."
Prepared for the long haul
Alison describes her approach as a long-term process, not a one-off event. It started with setting realistic big-picture goals and objectives and determining what is required to achieve these goals.
"Knowing and understanding exactly what the business is and being able to have an honest look at how it is currently performing are essential," she said.
Providing guidance
Alison is the first to admit it has taken considerable commitment, time and energy to develop goals, objectives, policies and procedures across the breadth of the business, but says it is more than worth the effort.
"They operate on all levels - from where I want to be in 10 years and how I might achieve this, to managing my cow condition score and grass in dry seasons, through to which bulls I will potentially bid on at a bull sale and how I can keep myself and my staff safe at work," she said.
"They act as a guide for me and those involved in my business. They help me sleep well at night and take a lot of stress and emotion out of decision making."
Flexibility in strong foundations
While others may perceive Alison's approach as overly prescriptive, she is keen to clarify that it delivers her business critical flexibility and allows her to take time out of the business with the confidence it will remain healthy and continue in the right direction in her absence.
"It isn't an inflexible plan that sits on my office shelf," she explains. "It is live, it is practical and it is useful.
"Agriculture is unpredictable and a rigid system simply wouldn't work, but being clear about where I'm going with my business and how I can best get there with the natural and human resources I have on hand allows me to keep heading in the right direction, even when you come across roadblocks.
"Some of the roadblocks I have come across have been huge; others are smaller challenges all producers face, but they can still be difficult to manage at the time."
Professional development
Alison, her children and her staff regularly participate in training and have completed courses in low-stress stock handling, pasture management, four-wheel motorbike training, livestock trading and general farm operation and safety. Below are the more recent courses and tools she has discovered and their benefits:
MLA's Business EDGE: "The two-day MLA Business Edge workshop is centred on economic sustainability, understanding business performance and managing financial risks. Being able to generate meaningful reports with accurate up-to-date information helps me and those who support my business with decision making across all the levels - from big picture decisions to small everyday ones."
Pasture Principles (supported by MLA's More Beef from Pastures): "I really value evidence-based information, which is what I enjoyed about Pasture Principles. It helped me understand the science of growing grass."
MLA's Rainfall to Pasture Growth Outlook Tool: "I use this when making strategic grazing decisions."
Alison's tips for a robust business:
Use a range of tools, resources and professional networks.
Invest in planning, develop realistic goals to capitalise on opportunities and build resilience.
Skills development and education for all team members is vital.
Monitor and evaluate against goals and objectives regularly.
Keep a clear head and take time out to focus on your own health and wellbeing.
More information
Alison Napier E: office.harefield@gmail.com
Keep up to date with the program for the 2017 Red Meat Update at: https://redmeatupdates.com/
Pastures Principles
Join myMLA today
One username and password for key integrity and information Systems (LPA/NVD, NLIS, MSA & LDL).
A personalised online dashboard that provides news, weather, events and R&D tools relevant to you.
Customised market information and analysis.
Already registered for myMLA?