A sheep industry shooting star
12 April 2018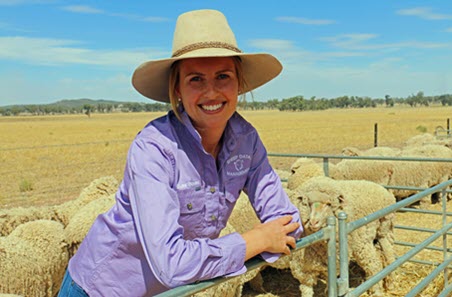 Sheep yards were Elise Bowen's childhood playground. These days, they're her office.
What started as helping her parents with tagging and collecting information on their WA sheep property as a child has now led to her running her own business.
Elise's passion for improving productivity, efficiency and profitability in sheep enterprises inspired her to establish a flock data management business at just 24, and earned her a Young Guns award at LambEx 2016.
The award offered a stepping stone for Elise to establish her business and, now, undertake a PhD through Murdoch University working on MLA-funded lamb survival research.
She's urging other young people to throw their hat into the ring and apply for the industry leadership program at this year's event, as entries for Young Guns 2018 close 17 April.
MLA is a major sponsor of LambEx 2018 which will be held in Perth from 5–7 August.
"I would encourage young people who are passionate about the sheep industry to share their ideas with others and apply for the Young Guns competition," she said.
"It's such a fantastic opportunity to start your involvement with the industry."
While Elise admits it can be challenging to get a foot in the door, her journey is proof that taking every opportunity can pay off.
"My advice is to say yes when people offer you opportunities – you may not feel like you're qualified for a particular program, but I can assure you that passion and a willingness to learn is much more important than experience," she said.
Practical, outcome-driven research
Elise's Young Guns' project focused on developing a maternal ewe efficiency index for her family's Mount Ronan White Suffolk and maternal flocks, based at York, east of Perth.
Her parents were early adopters of electronic ID technology through a Murdoch University trial in 2007. From a young age, Elise's computer skills were put to work inputting data into Sheep Genetics, the national pedigree and performance recording program.
This exposure to research inspired her to complete a Bachelor of Animal Science at Murdoch University, including an honours project looking into nutritional impacts on reproduction in ewe lambs.
After graduating, Elise worked on the Department of Agriculture and Food WA (now Department of Primary Industries and Regional Development) maternal efficiency flock as part of Murdoch University's sheep research team.
She even turned a stint of travel into a research trip, visiting sheep enterprises in the UK, Ireland and Scotland during 10 months overseas.
It wasn't until Elise returned to WA to help run Mount Ronan for a few months in 2014 that she finally pulled together her love of the sheep industry and data collection and kick-started her own flock recording business, Sheep Data Management.
What began as number-crunching for another breeder has grown into a full-time job which sees Elise collect, input, analyse and manage pedigree and performance data for 25 studs and commercial producers across Australia.
"I'm passionate about the efficiency gains and genetic progress producers can make by using data to manage their animals as individuals," Elise said.
Her tip for producers who want to start harnessing information is to work out what their breeding objectives are, and then identify the traits that will help achieve these goals.
"If you want to improve something, you have to start measuring it," she said.
Where to from here?
Elise is starting a PhD through Murdoch University and will work on MLA-funded lamb survival projects.
She will research embryo loss in young ewes and ewe lambs between the time of pregnancy scanning and lamb birth, which she sees as an important priority for increasing the industry's productivity and profitability.
While she has now relocated to Wagga Wagga, NSW, Elise will head back to WA to attend LambEx 2018 and help her family host an on-farm tour as part of the event.
More information:
Lambex 2018: lambex.com.au
Applications for the 2018 Young Guns competition close Friday 13 April – for more information: lambex.com.au/young-guns
Sheep Data Management: sheepdatamanagement.com
Join myMLA today
One username and password for key integrity and information Systems (LPA/NVD, NLIS, MSA & LDL).
A personalised online dashboard that provides news, weather, events and R&D tools relevant to you.
Customised market information and analysis.
Already registered for myMLA?