Alibaba's Tmall Fresh promotes Australian Beef and Lamb in China at Australia Day barbecue
29 January 2018
Fourteen suppliers of Australian beef and lamb promoted selected products under the 'True Aussie Beef and Lamb' brand in China over the weekend, as Alibaba Group's Tmall Fresh and Meat & Livestock Australia (MLA) partnered to provide Australia's best beef and lamb producers with another channel to reach the Chinese market.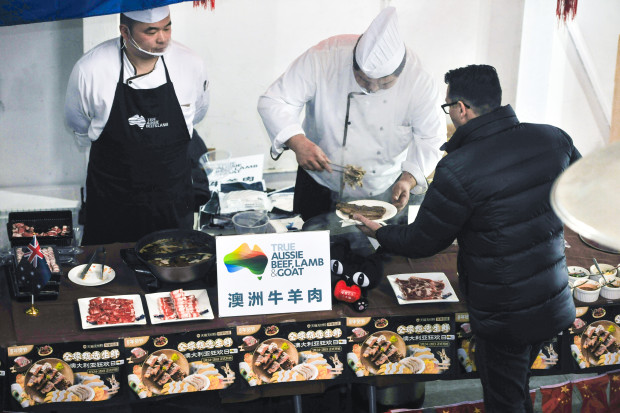 The MLA-owned brand appeared on a total of 160 Australian products available to Chinese consumers on Tmall Fresh.
This marks the first time the iconic brand – which allows consumers to identify high quality Australian beef and lamb – has been featured on an e-commerce platform in China, and comes as e-commerce continues to emerge as a key sales channel for Australian producers to reach China's soaring demand for Australian beef and lamb.
Announced on January 27 at this year's Australia Day barbecue, hosted by the Australian Chamber of Commerce in Shanghai (AustCham Shanghai), Tmall Fresh, and MLA, the True Aussie Beef and Lamb logo appeared on selected products as part of the Australia Day campaign which combined online and offline activities designed to celebrate Australian beef and lamb ahead of Chinese New Year. Over 200 VIP guests also attended the barbecue to celebrate Australia Day.
As part of the celebrations, more than 400,000 Chinese viewers tuned in to a special livestream event featuring an Australia Day barbecue cooking competition, as well as a series of demonstrations on how best to prepare Australian beef and lamb.
"Appetite for Australian fresh food in China continues to experience significant growth and e-commerce channels provide a unique opportunity for exporters to connect with hundreds of millions of Chinese consumers," said Maggie Zhou, Managing Director of Alibaba Group (Australia & New Zealand).
"This partnership will not only benefit beef and lamb producers but also farmers across Australia; bringing their best products to a new generation of Chinese consumers and making it easier for Chinese buyers to find the top-quality beef and lamb products they want.
"Through the use of Alibaba's e-commerce channels, we're making it easier for Chinese consumers to identify, and buy, high quality Australian meat."
While Australian beef and lamb formed the 'anchor' products of the campaign, Tmall Fresh also promoted other Australian fresh foods, including fruit and seafood.
Since the signing of the China-Australia Free Trade Agreement in 2015, exports of Australian beef and lamb to China have soared. In fact, e-commerce has emerged as the leading sales platform for beef products in China, with Alibaba the preferred online channel for many Australian meat exporters looking to access China.
MLA General Manager, International Markets, Michael Finucan, said the partnership utilises the iconic True Aussie Beef and Lamb brand to promote quality red meat to Chinese consumers, allowing Australian exporters to differentiate themselves from their global competitors.
"By recognising Australia's clean and green image and reinforcing an industry that is focused on the highest possible food safety standards, traceability, and quality assurance through the supply chain, the True Aussie Beef and Lamb brand captures the core principles of Australian red meat," Mr Finucan said.
"This is a unique partnership in the Chinese market. With e-commerce the leading sales platform in China, partnering with Alibaba opens up access to a huge network of consumers and allows MLA to communicate directly with these consumers about the benefits of buying Australian beef and lamb – ultimately creating more value for Australian producers and the whole Australian supply chain."
Join myMLA today
One username and password for key integrity and information Systems (LPA/NVD, NLIS, MSA & LDL).
A personalised online dashboard that provides news, weather, events and R&D tools relevant to you.
Customised market information and analysis.
Already registered for myMLA?