Applications invited for producer event sponsorship
21 April 2017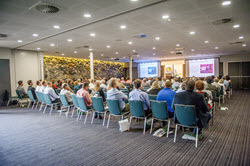 Meat & Livestock Australia (MLA) is calling on those with grassroots, producer events in 2017/18 financial year to submit their applications for sponsorship funding.
MLA offers sponsorship support and expert speakers for events and initiatives that bring long-term benefit and add value to the red meat industry.
All events that contribute to industry and provide a worthwhile experience for producers and others in the value chain are eligible for financial support or resources on the day.
First round MLA event sponsorship opportunities include applications for all sponsorship up to $10,000 for events held 1 July – 31 December 2017.
Any group or organisation whose event meets the criteria (below) is encouraged to apply for MLA event sponsorship. Applications for first round MLA sponsorship close Friday, 19 May 2017.
MLA recognises the value in supporting local events and grassroots producer education and is committed to supporting groups which take the initiative to engage and inform the industry.
While all events that bring benefit to red meat producers are considered, priority is given to those related to livestock production which build awareness of research and development (R&D) and stimulate adoption of new tools, technologies and practices.
In the last year, MLA has supported over 120 events, including Growing Sheep in the West Wimmera, Mackay Grazing Forum 2017, Barossa Improved Grazing Group Extension Events and the Northern Territory Cattlemen's Association AGM & Industry Conference.
All events benefited from MLA sponsorship support or in-kind contributions and reached a wide network of producers to provide valuable, seasonal and relevant on-farm information at a localised level.
Key dates: Applications close Friday, 19 May 2017 for event sponsorships of $10,000+ for the period 1 July 2017 – 30 June 2018 and for $10,000 and less and in-kind MLA resource support for the period 1 July 2017 – 31 December 2017.
All MLA-supported events and activities must:
Target commercial red meat producers with no specific breed focus
Allow for an MLA presentation / speaker and appropriate levels of branding
Deliver a post-event analysis within four weeks of event finishing
Include agreed measures of success such as number of attendees, satisfaction / usefulness scores and spikes in follow-up activities
Provide follow-up opportunities post-event to further circulate or enhance the information delivered (including: events, online content, workshops, etc)
Where appropriate, include an interactive display / session / presentation as a part of the event
Consider the priorities set out in MLA's Strategic Plan, which contribute to the profitability, sustainability and global competitiveness of the red meat and livestock industry. click here for further information.
Join myMLA today
One username and password for key integrity and information Systems (LPA/NVD, NLIS, MSA & LDL).
A personalised online dashboard that provides news, weather, events and R&D tools relevant to you.
Customised market information and analysis.
Already registered for myMLA?