Aussie beef 'steaks' claim on Japan's streets
15 December 2017
MLA Japan's 'Let's Barbie' promotion is designed to capture the growing interest in barbecue steak and associate it with Aussie beef in summertime, when our key competitor (US beef) tends to have a shorter supply of grill cuts for export.
Previous campaigns in 2015 and 2016 achieved very strong impact and retailers are increasingly showcasing 'atsugiri' (thicker cut) Aussie beef steaks for grilling. However, many Japanese consumers still lack the knowledge and confidence to buy and cook steak, resulting in missed sales opportunities.
In 2017 MLA Japan's brand marketing team placed more emphasis on educating consumers and providing them with a more interactive experience than the classic advertising and social media-led type of campaign. The highlights of this approach were world first 'Aussie Beef Lets Barbie pop-up stores' in Tokyo and Osaka, Japan's two largest cities.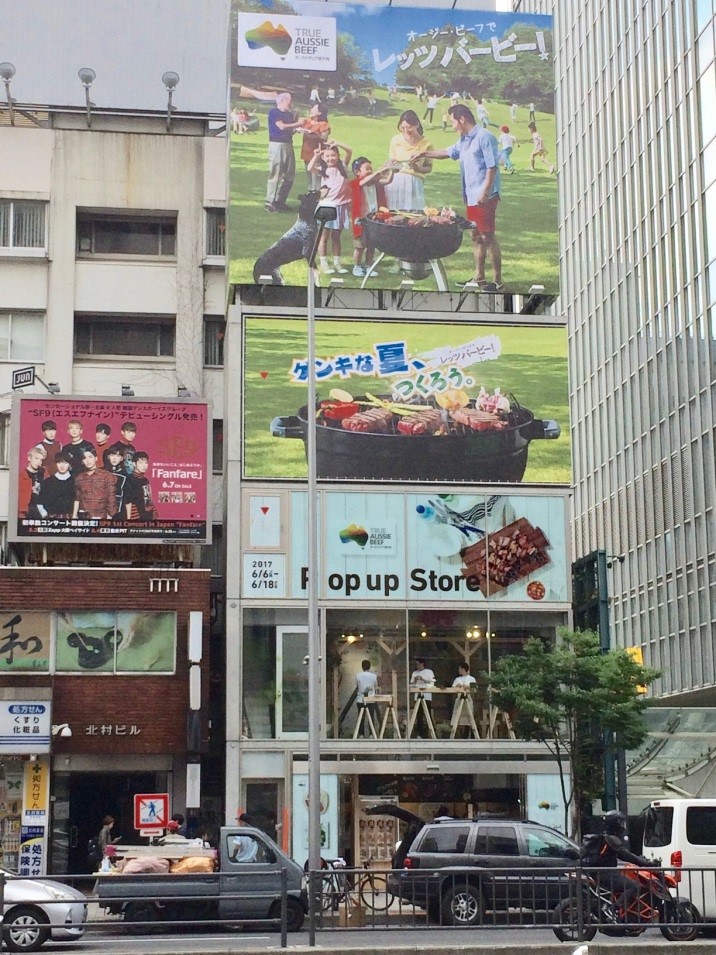 MLA's 'Lets Barbie pop-up store' located in Tokyo's fashionable Omotesando district. Click to view larger image.
Shoppers at the stores were able to enjoy an Aussie beef live cooking performance, try Aussie beef steak in three different flavours, purchase a steak to take home and cook for themselves, and share their experience by connecting on social media.
The campaign reached over 60 million Japanese consumers, with coverage including national television and newspapers, magazines and major online news sites. This reach is valued at over A$8 million. More than two million stickers for retail meat trays were distributed through 1,850 participating outlets, and sales of Aussie Beef products grew 5% year-on-year despite price pressures from other imports. A major Japanese steakhouse chain jumped on board and saw sales increase by 10% with nearly 20,000 people participating in the competition.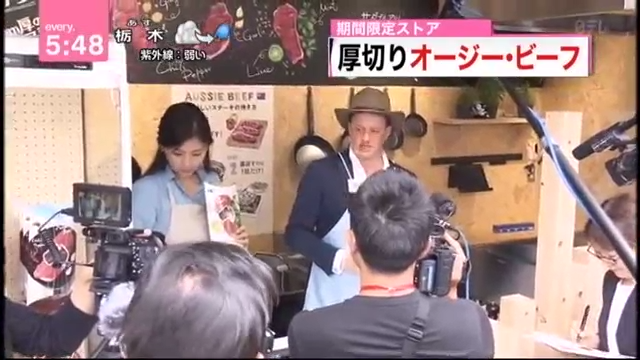 MLA's International Business Manager in Japan, Andrew Cox, conducts a steak demonstration to media in Tokyo. Click to view larger image.
The success of the pop-up concept has led to another initiative commencing January 2018 in Osaka as part of MLA's 'Are you Genki?' campaign, as MLA will open an 'Aussie beef breakfast bar' featuring specially-made Aussie beef rice balls as a healthy breakfast snack.
An overview of the campaign and coverage can be viewed here.
More information:
Andrew Cox, MLA International Business Manager – Japan and Korea
acox@mla.com.au
Join myMLA today
One username and password for key integrity and information Systems (LPA/NVD, NLIS, MSA & LDL).
A personalised online dashboard that provides news, weather, events and R&D tools relevant to you.
Customised market information and analysis.
Already registered for myMLA?