Australia's best grainfed MSA producers awarded
07 December 2017
The 2017 MSA Excellence in Eating Quality Awards were held nationally throughout September and October by MLA and saw an award presented for Most Outstanding Beef Producer – Grainfed, for each state and territory.
The Grainfed award recognised feedlots that have produced cattle eligible for Australian Grainfed Beef Standards and had high compliance rates to the MSA minimum requirements and consistently high eating quality performance – as determined by the MSA Index – for cattle consigned during 2015–16 and 2016–17.
Meet the winners
Queensland/NT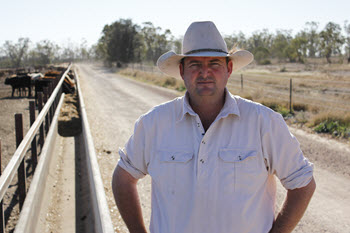 Reardon Operations General Manager, Tristram Hertslet
Robert and Jenny Reardon, Reardon Operations Feedlot, Talwood, were awarded the Most Outstanding Beef Producer – Grainfed for Queensland/NT.
The Reardons are successfully integrating and expanding cattle finishing in an irrigated cotton, dryland cropping and grazing operation that spans 25,000 hectares on the Queensland–NSW border.
Reardon Operations Feedlot was established in the 1990s on their Worral Creek property, near Talwood, and has been MSA-registered since starting operations.
Reardon Operations General Manager Tristram Hertslet, said the keys to consistently achieving good MSA results were using quality feed, good water and excellent stock handlers to finish cattle with an even temperament.
He said the 1,000-head feedlot sourced weaners from the Reardon family's property aggregation spread across the Goondiwindi, Mungindi and Moree districts.
"On average, the feedlot has been turning-off about 300 weaners per year, but as the cattle enterprise has been expanded, production is increasing to an expected 600 head turn-off from 2017 onwards," Tristram said.
The feedlot finishes weaners comprise a mix of Angus, Santa Gertrudis and Simmental-cross breeds.
Their target entry weight is about 300kg and cattle typically stay on feed for 70–120 days, depending on the final market and when cattle reach their optimum point.
Watch a video about Reardon Operations here.
Victoria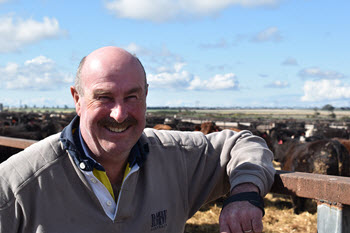 David Gillett of Jalna feedlot, Anakie
David Gillett of Jalna feedlot, Anakie, near Geelong, was awarded Most Outstanding Beef Producer – Grainfed for Victoria.
For David, the key to producing the best eating quality beef lies in the low-stress handling of cattle in his family's 7,000-head feedlot.
But handling is just one of the factors he considers in the commitment to the MSA program, introduced to his business eight years ago.
David said while stress has a big influence on beef eating quality, it's just one link in a whole circle of factors that contribute to the overall end product.
"MSA grading is also about acclimation, nutrition, transport, staff and facilities, and simple things like making sure that water troughs are clean and feed is sufficient," he said.
"In the early days, pen riding at Jalna was done on foot or by motorbike, but now we're 100% on horseback, and the cattle quieten down very quickly with calm handling.
"It's also a case of being aware of the impact of stress - for example, choosing the coolest time of the day to load out in summer, so that there is time to walk the cattle up to the yard slowly for their 45-minute trip to the works."
Jalna delivers 70-day trade cattle that are a combination of British breeds and crosses, and 100-day custom fed Angus steers for the Coles Finest brand.
David said the MSA performance results are also used to select and inform the regular suppliers of cattle to the feedlot, with cattle sourced from an area covering Gippsland in the east, the Riverina region of southern NSW and along the Murray River, across to western Victoria and into South Australia.
Watch a video about Jalna Feedlot here.
WA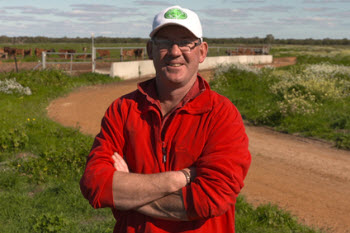 Carpenter Beef Feedlot Manager, Nathan Lidgett
Carpenter Beef, Dandaragan, owned by Rami Koyu's Central Agri Group, was awarded Most Outstanding Beef Producer – Grainfed for WA.
The operation is a multi-faceted, custom feedlot catering for producers targeting a range of markets and undertaking assisted breeding programs.
Based in the central grain-belt near Dandaragan, Carpenter Beef Pty Ltd runs the 10,400-head Marianna's Background Facility and 3,000-head c Joanna Plains feedlot on its 9,300 hectare iconic Joanna Plains property, where up to 10,000 head of cattle can also be backgrounded.
Both of the company's feeding facilities are accredited through the MSA system and are also a licensed live export depot.
Carpenter Beef Feedlot Manager Nathan Lidgett attributes the success of Carpenter Beef's large-scale beef operation to a dedicated livestock team implementing best practice animal handling techniques, continuity of quality feed sources and regimes, coupled with increasing genetic enhancements being made in pastoral and local cattle.
He said about 80% of cattle fed through the Marianna's Backgrounding Facility and Joanna Plains Feedlot were sourced from pastoral properties in the Pilbara and Kimberley regions, mostly through long-term supply relationships with northern producers and strong ties with local stock agents.
Carpenter Beef joined the MSA program several years ago and its feeding operations mainly prepare MSA-graded cattle for direct processing with Harvey Beef or supermarkets in WA, as well as cattle destined for export.
Nathan said for MSA-graded cattle going to the domestic processing sector, weaner heifers and steers entered the feedlot at a target live weight of about 300–400kg and exit weights ranged from 400–550kg. Most stock were on feed for 72–78 days.
All grain and hay is sourced within a radius of about 60 kilometres and, at peak times, could be feeding up to 10,000 head of cattle on any given day. With an overall feed intake of 10–13kg/head/day, that equates to 100–130 tonnes of feed ration/day.
"Our target is to be achieving growth rates above 1.8kg/head/day on the short-fed (72-day) ration program for cattle over 400kg for the Harvey Beef MSA product," Nathan said.
"While undertaking high end (Wagyu/Angus) long-fed (200-day) programs, a slower growth rate closer to 1kg/head/day is required to ensure the establishment of higher quality marbling of the meat."
Watch a video about Carpenter Beef here.
SA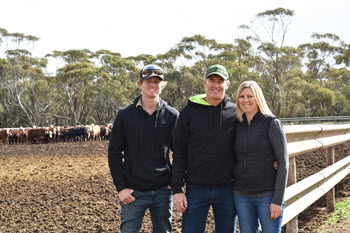 Lynton and Sonia Joyce and son Sam, Englefield Grange feedlot
Located close to the Southern Ocean in the coastal area of Wandearah, Lynton and Sonia Joyce, Englefield Grange feedlot, were awarded Most Outstanding Beef Producer – Grainfed.
Lynton and Sonia are mixed farmers and use opportunistic cattle trading for their 300-head Englefield Grange feedlot. To keep marketing options open, they became registered MSA producers in 2010.
Mr Joyce said being part of the MSA system ensured cattle going through the feedlot could be sold into MSA-accredited processing facilities, including those of their preferred buyers, Austral Meat Adelaide and Woolworths supermarkets.
He said the feedlot was an integral part of the family's 1,600ha mixed cropping and grazing operation and turned off 300–500 head/year.
"We produce broadacre winter crops and buy in cattle to graze on native saltbush, clovers and grasses, before moving them on to crop stubbles after harvest and then into the feedlot just after Christmas," Lynton said.
"The feedlot consumes some of our barley and wheat gradings, as well as other grains that we buy locally, some legumes and hay."
Cattle typically spend 70–100 days in the Englefield Grange feedlot, from late December to mid-April, and are then sold at weights of about 450kg for Woolworths and about 420kg for Austral Meat Adelaide.
Lynton said the preference was to source British breed stock, but the family often bought Bos indicus types for finishing as well, predominantly from the saleyards in Dublin.
Watch a video about Englefield Grange feedlot here.
NSW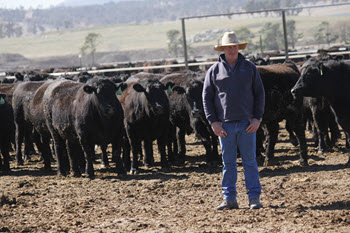 Rangers Valley Feedlot Manager, Sean McGee
Rangers Valley feedlot, based near Glen Innes and owned by Japan's Marubeni Corporation, was awarded Most Outstanding Beef Producer – Grainfed for NSW.
In Australia, Rangers Valley supplies MSA-accredited Angus beef to the Coles Finest program, turning off around 11,000 head/year for the brand.
Rangers Valley Managing Director Keith Howe said Rangers Valley sourced young Angus cattle from breeders throughout NSW, Victoria and SA to go through the MSA program.
"After being transported to Rangers Valley, the cattle are backgrounded in the feedlot's surrounding paddocks and depending on seasonal conditions, may be supplementary fed," Keith said.
"The cattle are backgrounded for a minimum of three weeks as part of a pre-conditioning program allowing the cattle to settle, and very importantly, with their mob, before going into the feedlot to start their feeding term."
Low stress stock handling is key to Rangers Valley's success in consistently producing cattle with high compliance rates to MSA.
"Our livestock procurement strategy is also an important factor in driving ongoing improvements into our MSA scores," Keith said.
"The cattle have well-bred genetics, good structural confirmation and body condition before they start their 100-day feeding term."
Watch a video about Rangers Valley here.
Join myMLA today
One username and password for key integrity and information Systems (LPA/NVD, NLIS, MSA & LDL).
A personalised online dashboard that provides news, weather, events and R&D tools relevant to you.
Customised market information and analysis.
Already registered for myMLA?