Bedding a boost at Rangers Valley
26 June 2017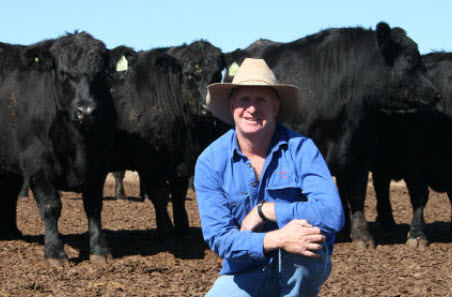 The decision to install woodchip bedding to boost the comfort of their long-fed cattle has proven to be a positive move on many levels for Rangers Valley Feedlot.
Based at Glen Innes in the New England tablelands region of NSW, the feedlot specialises in feeding Black Angus and F1 Wagyu cross cattle for their branded beef labels.
Four years ago, the company decided to start installing bedding in many of their pens in an effort to make their cattle more comfortable during the notoriously frosty and often wet winters.
Rangers Valley Feedlot Manager, Sean McGee, said about 7000 head of cattle now have hardwood woodchip bedding in their pens, not just in winter but throughout the year.
"Every winter is different, but if we get say 50mm of rain here in early June, then it will be wet right through to September because it gets so cold and the daylight hours are so short," Sean said.
"The Angus cattle are long-fed for 270 days and once they get to about 180 days on feed, they're moved into pens with the woodchip bedding for the last 90 to 100 days.
"We install new woodchip bedding in the pens at a depth of 200mm in March before winter sets in. We clean it out in September and then put 150mm of fresh woodchips in for the summer.
"The primary objective is to improve the comfort and welfare of the cattle. They're big cattle and we see less health issues, less mortality, and a better uptake of feed in adverse conditions as result of having them on bedding.
"Keeping them up off the gravel means there are a lot less structural issues and foot injuries, and it has made the job of getting them clean before processing a lot easier.
"We've also noticed in summer the cattle on woodchips are less affected by heat because there's no reflective heat coming back at them. The summer just gone was a good example – for Glen Innes, we experienced hot conditions for an extended period of time throughout January, February and into the start of March. We could see from the feed intake of cattle during that time that they were a lot more comfortable being on the woodchips."
Mindful of the potential environmental impacts of using woodchips, Rangers Valley has found a market for the woodchip/manure mix after it has been removed from the pens.
"We source the woodchips from a supplier on the NSW Mid North Coast area," Sean said.
"Once it has been removed from the pens, the woodchip/manure mix is screened and our supplier backloads the truck to the coast where it's used as a fertiliser on macadamia and blueberry farms."
As a vertically integrated company producing its own branded beef, ensuring world-class animal welfare standards is also essential to the integrity of the Rangers Valley brand.
"We're really close to our customers, so our name is not just on the shirt and front gate, it's on the box the beef is packed in and on restaurant menus," Sean said.
"We want customers to be confident that we're doing everything we can for our cattle.
"We also bed all our cattle that come off trucks when they arrived at the feedlot. As soon as they get off a truck, they're put in pens with 100mm of bark mulch or tea tree mulch. Some of our cattle might be long-haul that have spent all day on a truck and they're a little sore-footed and tired when they arrive, so we want them to be recovering as quickly as they can.
"We've also just upgraded our cattle handling facility and installed rubber on all of the floors to further prevent foot injuries and structural injuries.
"The woodchip bedding is expensive, there's no doubt about that, but it's the right thing to do for the cattle and there are many production benefits.
"With the value of cattle today, especially black cattle, the bedding more than pays for itself."
Join myMLA today
One username and password for key integrity and information Systems (LPA/NVD, NLIS, MSA & LDL).
A personalised online dashboard that provides news, weather, events and R&D tools relevant to you.
Customised market information and analysis.
Already registered for myMLA?