Bird's eye view
15 March 2018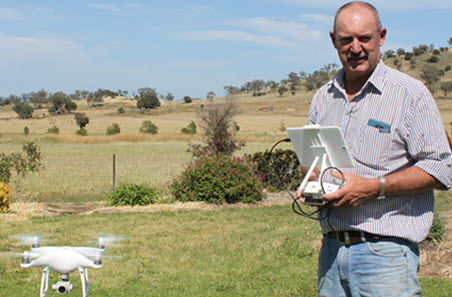 Darren Swain's drone usage may have started as a hobby, but it didn't take him long to realise the Phantom 4 Pro had practical applications.
Using drones on farm
"I regularly check troughs with it, assess water quality at watering points and fly over paddocks to assess feed quantity and quality," he said. Darren runs a cattle trading and breeding and sheep trading enterprise on 360ha at Gunnedah in northern NSW.
"Being able to view pastures from above provides a different perspective, and sometimes I find there isn't as much feed or ground cover as I thought from a ground-level inspection."
Using these observations, Darren is confident in making feed-on-offer and stocking decisions based on what he can see on-screen.
Cattle versus sheep
Darren's drone is a 'middle-of-the-range, off-the-shelf model' with collision avoidance, which he purchased with extra batteries (but not including the screen), for about $2,500.
For the screen, he uses his smart phone or tablet.
"I've mustered animals from one paddock to another, but it still requires someone to open and shut gates. At this stage I think it's still easier to do it with a bike or vehicle," he said.
"My stock are quiet and I find the cattle, in particular, can stand up to the drone and resist moving until it's very close. There's always the risk they might damage it.
"Sheep, on other hand, seem a bit easier and move away from it."
Farm management from every angle
Darren works full-time off farm, so is under pressure to manage time efficiently when he's at home.
"The drone is good for checking stock, particularly in difficult-to-get-to places," he said.
"I've used it to check whether a lame bull is improving. The irritation of the hovering drone next to the bull will make get him up and walk.
"I can then view him from every angle to see how he's going."
However, Darren has found the drone is less effective for spotting pink eye or identifying animals that are not gaining weight as expected.
Lines of sight
Another drawback is the drone's lack of range in ridge country.
"In flatter country, its range is quoted at about seven to eight kilometres but, on my undulating property, about three kilometres is the maximum," he said.
"When it gets low behind a ridge or a rise, the signal cuts out and its auto return-to-base mode is initiated and it returns home."
In order to keep line-of-sight in ridge country, Darren needs to keep the drone high while flying, which reduces the detail of his vision of the ground. However, for all the challenges, Darren believes their applications will only increase as technology improves.
"I think producers will drive demand, finding more roles for them and, hopefully, economies of scale will continue to make them more affordable," he said.
Lessons learned
Drones are good tools for checking watering points.
Drones do not operate so well in undulating-to-hilly country due to the shorter 'lines of sight'.
Sheep are easier to muster than cattle with a drone.
More information
Darren Swain
Drone action
Ruralco, MLA and PrecisionHawk have developed a project to engage directly with producers to develop an aerial drone strategy for the benefit of the red meat and livestock industry
Initially running for 12 months, the functions of the project are to:
Demonstrate the current capabilities of aerial drone technologies
Map the current use of aerial drones and identify the future development needs around how aerial drones can be used more effectively on farm.
The project will:
Identify the extent and purpose of existing red meat producer aerial drone usage
Identify new opportunities and required future development for aerial drones in order to meet the needs and requirements of the red meat and livestock industry
Contribute to the development of an aerial drone strategy for MLA
You can have your say on drone usage by completing the project's drone technology survey at: surveymonkey.com/r/DroneTechnology
Every survey participant will have a chance to win a PrecisonHawk DJI Phantom 4 Pro.
Join myMLA today
One username and password for key integrity and information Systems (LPA/NVD, NLIS, MSA & LDL).
A personalised online dashboard that provides news, weather, events and R&D tools relevant to you.
Customised market information and analysis.
Already registered for myMLA?