Blair invites you to Beef Australia 2018
15 February 2018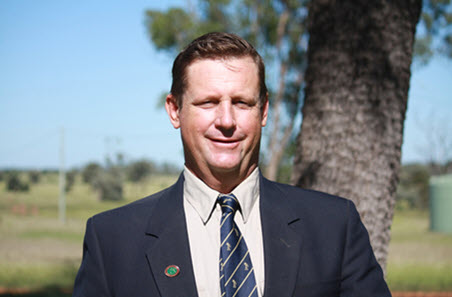 Australia's national beef expo is considered one of the world's great cattle events and is held once every three years at Rockhampton, Queensland. Here Friday Feedback talks to Beef Australia's Chair, Blair Angus, about the event to be held 6–12 May, and why it's a must-attend for Australian beef producers.
What makes Beef Australia 2018 so exciting?
It's the 30th anniversary of Beef Australia. The event has grown from a unique showcase of our local cattle industry to being a globally-recognised extravaganza of the entire beef supply chain.
Who should be interested in attending the expo?
It has something for everyone and it's my firm belief that if you've ever eaten a piece of beef, you're a part of this industry. Australian producers head to the show in droves. It's an unrivalled opportunity to learn more, to benchmark and to network. Customers from Australia and around the world now see Beef Australia as the place to open up new market opportunities and to build business relationships.
What's new to Beef Australia this year?
The program keeps expanding – the trick is fitting it all into one week. An exciting part for me is the focus on the future. We've grown the celebrity chef program and this time we're introducing the Young Chef Ambassador competition, where a lucky young chef is given the opportunity to work with some global talents. It's about sharing ideas on how to make beef the star.
Our Graeme Acton mentor program is back, and this time each of the mentor partnerships are developing a project. The Pitch in the Paddock is focusing on ag-tech and innovation.
When do the cattle competition entries close?
You still have until 23 March to get entries in for the commercial competition, or until 30 April for junior events in the stud competition. The final slaughter date for the carcase competition is also in March, so there's still time to have your herd participate on a national stage in front of an international audience. There's also the young judge and parader competitions.
Is it too late to plan a trip?
The popularity of Beef Australia means that you should plan now. Get in touch, whether it's online, on social media or over the phone, the team is here to help.
Information:
T: 07 4922 2989
E: beefexpo@beefaustralia.com.au
beefaustralia.com.au
Join myMLA today
One username and password for key integrity and information Systems (LPA/NVD, NLIS, MSA & LDL).
A personalised online dashboard that provides news, weather, events and R&D tools relevant to you.
Customised market information and analysis.
Already registered for myMLA?