Boosting calf survival
15 March 2018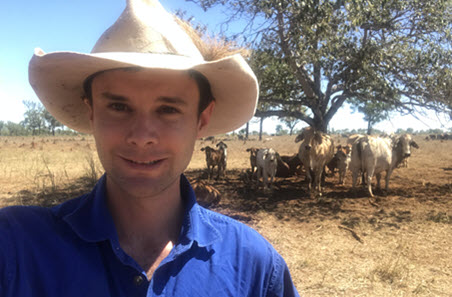 Research has revealed the greatest risk to calf survival occurs in the first week of life.
Queensland Department of Agriculture and Fisheries researcher Jarud Muller recently conducted a study of 14 Brahman cows in moderate body condition to monitor their milk delivery after calving, as well as growth of their calves. Jarud's research has just seen him named the recipient of the MLA Award in the recipients of the 2018 Science and Innovation Awards for Young People in Agriculture, Fisheries and Forestry.
Key findings
The MLA-funded research, carried out through the larger calf survival research run by the University of Queensland, University of New England, Queensland Department of Agriculture and Fisheries, Northern Territory Department of Primary Industries and Resources, found that insufficient milk delivery – in particular, delayed full lactation at calving – may be a significant contributor to calf mortality.
"Half the calves grew at about 1kg/day for the first three days after birth, while the other half barely maintained their birth weight. This strongly suggested either failure of the cow to produce sufficient milk or failure of these calves to suckle effectively," he said.
Jarud said all of the calves had the same birth weight, but their varying growth rates during the first week showed that cows' milk production and delivery may be critical to calves' ability to thrive.
More research needed
Researcher Dr Geoffry Fordyce, of the University of Queensland, said Jarud's preliminary work helps inform the northern beef industry that a substantial number of cows take several days to achieve full lactation.
"We're hoping to investigate whether there is genetic variation in this ability; however, until we can demonstrate this, we assume that most of the effect is management, nutrition and environmental."
Geoffry said milk estimated breeding values (EBVs) do not show if a cow will initiate lactation quickly.
"A milk EBV is related to the amount of milk delivered over lactation and, at this point, there is no evidence of there being any relationship between that and a cow's ability to initiate full lactation at calving," he said.
Tips to boost newborn calf survival:
Avoid mustering during calving – losses are greater in maiden heifers, so manage these extra carefully.
Sustain moderate-to-good cow body condition at the point of calving and calve when adequate feed is available.
Ensure there is sufficient feed within 2km of water.
Determine the phosphorus status of the breeder paddocks and, if acutely deficient, provide phosphorus during late pregnancy and lactation – each litre of milk needs a gram of phosphorus.
Use strategic supplementation to rectify other deficiencies, especially protein, in pregnant cows.
Provide adequate shelter, such as trees, and well-drained areas in calving paddocks.
Vaccinate pregnant cows against major endemic diseases to boost colostrum antibodies.
Cull cows with bottle teats or a very large udder at calving, and do not breed with bulls out of cows that have poor udders and teats.
More information
Contact:
Email Geoffry Fordyce
Email Jarud Muller
Visit:
Futurebeef.com.au and search 'calf loss'
mla.com.au/cashcow
beefcrc.com
Join myMLA today
One username and password for key integrity and information Systems (LPA/NVD, NLIS, MSA & LDL).
A personalised online dashboard that provides news, weather, events and R&D tools relevant to you.
Customised market information and analysis.
Already registered for myMLA?