Bred Well Fed Well workshop to boost reproduction rates
21 September 2017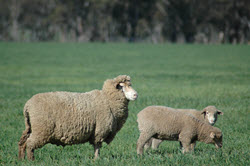 Sheep producers can find out how combining top genetics with superior ewe feed management can help boost reproduction rates when the next Bred Well Fed Well workshop is held in North West Victoria next week.
Producers have an opportunity to attend a Bred Well Fed Well workshop at Manangatang Public Hall, Manangatang, on Tuesday, 26 September from 8.30am to 3pm.
The workshop is being co-ordinated by Agriculture Victoria and supported by Meat & Livestock Australia (MLA) and the Australian Government's National Landcare Program.
It is an opportunity for producers to gain knowledge and skills in genetics and nutrition to help meet their enterprise objectives.
Workshop facilitator, Jason Trompf, said the hands-on, one-day workshop will give producers practical tools to optimise reproduction and profitability in their ewe flocks.
"The day is squarely aimed at improving the profitability of ewe flocks because they are the engine room of the industry," Dr Trompf said.
"For example, important elements of the workshop will be setting breeding goals for ewe flocks and how using tools like Breeding Values can help producers meet their goals.
"We are excited about the opportunities that combining good breeding with good feeding will bring to the sheep industry."
The workshop will focus on:
improved understanding of how to use reliable breeding tools to improve enterprise profitability;
how to develop a breeding objective for your sheep enterprise;
better management of ewe nutrition for reproductive performance and flock profitability; and
skills in assessing ewe condition and developing simple energy budgets for the ewe flock.
Practical sessions include condition scoring, feed budgeting, ram rankings and ram selection. Follow-up courses in these areas will be offered for workshop participants wishing to further develop skills in breeding and nutritional management.
There is a participation fee of $75 (including GST) per person to attend.
For more information and to RSVP by Friday, 22 September 2017, contact Jodie Harrison at Agriculture Victoria on 0438 890 292 (jodie.harrison@ecodev.vic.gov.au) or visit the MLA website www.mla.com.au
Join myMLA today
One username and password for key integrity and information Systems (LPA/NVD, NLIS, MSA & LDL).
A personalised online dashboard that provides news, weather, events and R&D tools relevant to you.
Customised market information and analysis.
Already registered for myMLA?