Bull buying: a long-term investment
02 August 2017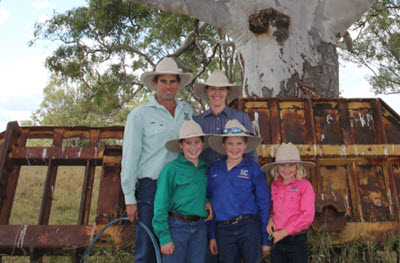 Buying bulls is one of the most important tasks in Steven and Claire Farmer's business.
The seedstock and commercial breeders believe in having a clear breeding objective, doing their homework and buying bulls with genetic potential in commercially important traits.
They run 250 stud and 400 commercial cows in their Droughtmaster stud and Droughtmaster-Brangus (joined to Wagyu) herd on their 3,887ha property 'Mt Elsa' in Canoona, Queensland.
"It can take patience to find the right bull. You might spend one day a year buying bulls but you could live with the consequences of those decisions for the next 15 years," Steven said.
Estimated breeding values (EBVs) are improving the number of traits measured as well as accuracy, and Steven recommends producers use them whenever possible.
"In our herd, we focus on selecting bulls for fertility, fast growth, moderate maturity, polledness and good temperament," he said.
"The market is applying pressure for polled animals and we have young children, so temperament is very important to us."
Before attending a sale, Steven compares EBVs, semen morphology tests and their dams' calving history to arrive at a shortlist.
"The Droughtmaster breed is getting close to having a days-to-calving EBV, which will make selection for fertility easier, but one of the traits I focus on now is scrotal circumference – for the stud I want a bull in the top 20% of the breed, for the commercial herd I want just above breed average. Semen morphology should test at better than 70%," he said.
"Growth is similar but I focus on the 600-day growth figures, as most of our calves end up in the Japan Ox trade, even though our involvement usually ends when we sell them to feedlots."
Lessons learned:
Good all-round bulls are not necessarily leaders in one particular trait.
Source bulls from studs with similar breeding objectives.
Inspect stud breeder herds for structure, calving history etc before buying a bull.
Information
Steven Farmer E: scgrazing@gmail.com
Watch Steven explain his bull buying strategy in an MLA-funded FutureBeef video.
Read more about EBVs and BREEDPLAN
Join myMLA today
One username and password for key integrity and information Systems (LPA/NVD, NLIS, MSA & LDL).
A personalised online dashboard that provides news, weather, events and R&D tools relevant to you.
Customised market information and analysis.
Already registered for myMLA?