Can rangeland goats grow faster with supplementary feeding?
26 April 2017
As Goats on the Move has reported previously, a series of trials have been commissioned by Meat & Livestock Australia (MLA), with support from the Goat Industry Council of Australia (GICA), to investigate the growth rates of young rangeland goats with and without supplementation.
The previous article can be read here.
With good returns, rangeland goatmeat producers are increasing their level of management intervention in their herds. For example, some producers are improving genetics, such as in Boer goats, while others are trying supplementary feeding to enhance the growth of undersized goats. However, little is known or documented about the growth rates of young goats, with or without supplementary feeding. This makes it difficult to develop industry recommendations that can make supplementary feeding accessible to all producers and increase supply to service overseas markets.
AusVet, GrazServ and the Eulo goat depot have teamed up with producers from sites in south west Queensland (Eulo, Cunnamulla and Dirranbandi), south east Queensland (Warwick) and Griffith, NSW, to investigate this issue.
The trial has been underway for six months and examined the growth rates of 768 rangeland goats. Goats were fed with 1-2% of bodyweight commercial goat pellets daily for three to six months.
The results demonstrate that goat growth does increase with supplementary feeding.
These goats weighed 15kg on average at the start of the trial. At the end of the trial, goats that received supplementary feed weighed 26.8kg. Un-supplemented goats weighed 25.2kg. Allowing for site differences in climate, pasture and feeding levels, goats that received commercial pellets in addition to normal pasture were less than 1kg heavier than goats that just received the same pasture. See Figure 1.
Figure 1: Plot of weight of goats by time and treatment group.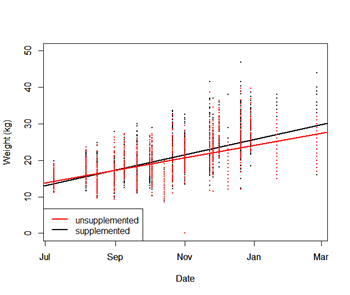 Group and time
Median weight (kg)
Start weight
Supplemented
15.00
Un-supplemented
14.80
Finish weight
Supplemented
26.80
Un-supplemented
25.20
Table 1: Median start and finish weights of goats in both treatment groups (supplemented and un-supplemented).
This provides good Australian scientific evidence that commercial rangeland goats can produce more when supplemented at pasture. Unfortunately, it appears that the growth rates achieved are not high enough to be financially beneficial, when feeding relatively expensive commercial pellets.
The next several months of the trial will concentrate on using very inexpensive, locally available feed supplements, such as cotton seed, to see if goats can still benefit in growth rate. This will allow more economical feed sources to be examined and to determine whether supplementary feeding can be financially beneficial for producers.
For more information contact Dr Brendan Cowled, AUSVET Pty Ltd at brendan@ausvet.com.au
Join myMLA today
One username and password for key integrity and information Systems (LPA/NVD, NLIS, MSA & LDL).
A personalised online dashboard that provides news, weather, events and R&D tools relevant to you.
Customised market information and analysis.
Already registered for myMLA?