Clearing the air
11 April 2017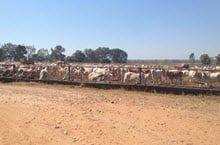 A review of dust suppression in feedlots has investigated the main sources of dust, and how to most effectively control the issue.
Dr Peter Watts from FSA Consulting, one of the six authors of the report, said Australian lot feeders, US researchers and more than 300 pieces of literature on the subject were consulted to review manure-related, traffic-related and feed-related dust sources.
"There is a potential for dust from Australian feedlots to be regarded as an issue to the people or animals in close contact, but if the right hazard controls are put in place it can be treated as a nuisance," Dr Watts said.
The review team assessed dust reduction strategies using a hazard control hierarchy approach that included; elimination, substitution, engineering, administration and personal protective equipment (PPE).
"When we asked lot feeders what their biggest dust issue was, there was an equal split between manure and traffic related dust," he said.
"These are obviously site specific responses, as the feedlot design and the climate and location of the operation are big factors, as are the steps already taken to prevent dust issues.
"For example, where the means and finances are available, some lot feeders choose to bitumen their roads, and many use water trucks to settle the dirt roads.
"Another option that is used in the mining industry is to apply a chemical additive to roads that include organic oils to bind the fine particles together.
"Some lot feeders also reported using the runoff from holding ponds to water down roads."
Dr Watts said one consistent observation throughout the review is the evening dust peak.
"As all lot feeders know, an evening dust peak is caused by increased movement of cattle in the pens around sunset, which is regarded as normal behavioural activity," Dr Watts said.
"Due to the atmospheric attributes of that time of day the dust plume doesn't disperse and often moves undiluted across the feedlot, or even towards neighbouring properties.
"There is a lot of research in this field that suggests a number of controls that can be applied to supress the dust at this time of day.
"One is the use of sprinklers to settle and minimise the pen dust and the drift of the dust plume.
"However the infrastructure can be expensive, and with limited water supplies in Australia, this isn't always a favoured option."
Another option surveyed was variation of stocking density of cattle between wet and dry climatic conditions.
"Cattle add extra moisture on to the surface of the pen due to manure output and this becomes more significant as cattle are stocked more densely in pens," Dr Watts said.
"Of course, if this was done under wet season conditions, it wouldn't be an ideal situation which may lead to wet pen conditions, dags and odour, so an obvious thing to only consider is changing stock rates in different seasons. Increased stocking density during summer in southern Australia could be a solution to pen dust generation.
"In principle, it would be functional to house cattle in half of the pen in the dry season, and in a full pen in wet season, however there are many other things to consider such as how temporary fencing would operate, or how to respond if heat stress became an issue.
"This is one area that could really benefit from further research, however it isn't something that could happen unilaterally. It would need to be discussed at length between regulators and industry as well as welfare groups."
It is recommended that all feedlots develop a dust management plan structured under the hazard control hierarchy using dust reductions relevant to site conditions.
The review identified a number of recommendations for feedlot dust research.
The review is a Meat & Livestock Australia (MLA) project jointly funded by grainfed levies and the Australian Government, and managed in consultation with the Australian Lot Feeders' Association (ALFA).
Join myMLA today
One username and password for key integrity and information Systems (LPA/NVD, NLIS, MSA & LDL).
A personalised online dashboard that provides news, weather, events and R&D tools relevant to you.
Customised market information and analysis.
Already registered for myMLA?