Culinary showcase to celebrate Australian beef
27 April 2018
Australian beef's superior eating quality, taste and versatility will be on show at a series of culinary events supported by MLA during Beef Australia 2018 in Rockhampton.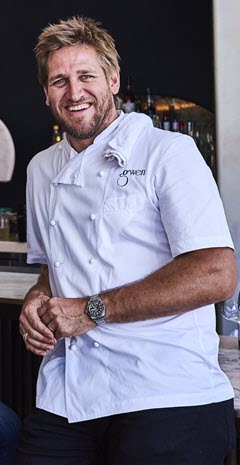 Visitors to Australia's premier beef industry event in May will have the opportunity to hear from prominent local and international chefs on the many ways Australian beef is eaten and enjoyed by consumers worldwide.

As part of this program, MLA is bringing internationally renowned Australian chef Curtis Stone to Rockhampton, as well as MLA's own celebrity chefs and Aussie beef advocates Sam Burke and Tarek Ibrahim, who are keen to demonstrate the quality, versatility and nutritional benefits of beef.

The Culinary Showcase events supported by MLA include:
Celebrity Chef Program - bringing together prominent local and international chefs to Rockhampton to showcase Australian beef. Chefs will feature at the PwC Celebrity Chef Restaurant, The Butcher's Kitchen and around the grounds in a celebration of the very best of Australian beef. This component will feature a number of leading chefs including Curtis Stone and MLA's own chefs Sam Burke and Tarek Ibrahim.
The Butcher's Kitchen - celebrating Australian beef through a dedicated cooking and butchering precinct featuring daily demonstrations from celebrity chefs, butchers and special guests showcasing the greatness of Australian beef.
MLA Beefing Up Profits sessions - during the week The Butcher's Kitchen will feature MLA's Beefing Up Profits sessions educating attendees about Meat Standards Australia (MSA) - the Australian red meat industry's stamp of approval for eating quality consistency from paddock to plate. MLA Beefing Up Profits will also feature daily sessions showcasing the value added work MLA is doing with butchers and retail outlets to produce meal solutions and new ways to use beef for increased carcase utilisation.
MLA Chief Marketing & Communications Officer Lisa Sharp said the MLA supported culinary showcase, led by Curtis Stone, was a fantastic opportunity to educate consumers about whole carcase utilisation and the versatility and nutritional credentials of Australian beef.
"Chefs are always a huge drawcard and we have the very best at Beef Australia in Rockhampton," Ms Sharp said.

"The presence of Curtis Stone throughout MLA's program of activities during the week will assist in capturing the attention and imagination of visitors to Rockhampton as well consumers around the country."

As a chef, restauranteur, author, media personality and businessman, Curtis has become a household name both in Australia and overseas.

"Throughout the week, Curtis will be making appearances in The Butcher's Kitchen, at the PwC Celebrity Chef Restaurant, Celebrity Chef Property Tour and MLA's Global Markets Forum. Curtis will also be promoting Australian beef and Beef Australia 2018 with media from across the country from the event across the week," Ms Sharp said.

Find out more about MLA's Culinary Showcase

Find out more about the full MLA program at Beef Australia 2018 in Rockhampton
Join myMLA today
One username and password for key integrity and information Systems (LPA/NVD, NLIS, MSA & LDL).
A personalised online dashboard that provides news, weather, events and R&D tools relevant to you.
Customised market information and analysis.
Already registered for myMLA?