Data management at the coalface
27 April 2017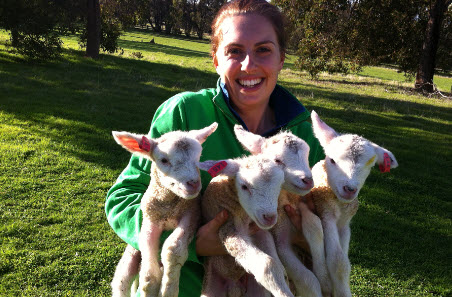 Elise Bowen, who was named the Young Gun winner at the MLA-sponsored Lambex 2016, shares her thoughts on the value of data and her tips for making the most of it.
Elise's family run a White Suffolk and maternal stud flock in York, Western Australia, and she has been recording measurements and submitting them to Sheep Genetics since she was in high school.
Elise's involvement with data collection has involved working with stud and commercial clients and the research sector, since obtaining a Bachelor of Animal Science (Honours) and establishing her business Sheep Data Management in southern NSW in 2014.
"The value of data collection is well accepted in the stud industry and my work with stud breeders primarily involves entering all their pedigree information and raw data such as live weights, fat and muscle scans, and so on, into the national database to generate breeding values," Elise said.
"It's important to be thorough, to eliminate errors and ensure all the management groupings are correct, so the national system's data quality is high."
Elise also works with commercial breeders, who don't need to record pedigrees for their animals but are interested in collecting data to drive on-farm production efficiencies and profitability.
"For example, I'm working with some commercial clients who are focusing on ewe efficiency, which is a particular interest of mine and something I have been working on in my family's flock," she said.
"Ewe efficiency is a ratio of product produced (in this case, kilograms of lamb weaned) relative to ewe maintenance cost (ewe size).
"Efficiency can be improved by increasing kilograms of lamb weaned – through higher flock pregnancy scanning percentages, better lamb survival and increased lamb growth rates – and also by decreasing mature ewe size, which means a lower feed requirement and therefore allowing increased stocking rates."
"For commercial producers, data collection is about trying to identify the animals that are producing the most for you and rewarding them, and then also identifying the ones that aren't performing and are just costing you money."
Elise works with commercial producers to:
record pregnancy scanning results, and apply positive selection emphasis to twinning ewes
record ewes that have lambed and lost (dry at weaning) and apply negative selection emphasis to those
calculate standard reference weight (liveweight at condition score 3) to allow comparison of mature ewe size, and apply negative selection emphasis to heavier ewes
monitor ewe liveweight response to supplementary feeding, removing ewes that fail to regain lost condition fast enough.
Elise's top tips for on-farm data collection
Don't collect needless data: If the data is not important to your business you're never going to analyse it and, even if you do, you won't make any changes to your management practices based on it.
Collect data that is relevant to your breeding objective: Identify your breeding objectives (fertility, growth rate, yield, etc) then work out what data you can collect that would have the most impact on those objectives.
You don't have to use electronic identification (EID) to collect data: If you're not set up for EID, don't let that put you off. A lot of people aren't using EID yet, but they still collect meaningful and basic data using visual tags. It just takes a little longer and you need to be more diligent to avoid human error. Many then move to EID after starting a data collection system as they can see the additional efficiency benefits.,
More information
Elise Bowen
E: sheepdatamanagement@gmail.com
Join myMLA today
One username and password for key integrity and information Systems (LPA/NVD, NLIS, MSA & LDL).
A personalised online dashboard that provides news, weather, events and R&D tools relevant to you.
Customised market information and analysis.
Already registered for myMLA?