Email scam alert
23 January 2019
Meat & Livestock Australia (MLA) has been made aware that fraudulent emails began circulating on Tuesday, 22 January and may have been sent to members.
The email urges recipients to download documents via Dropbox, stating this is a mandatory requirement for all MLA members (see screenshot below). If you received this email, please do not click 'download documents'.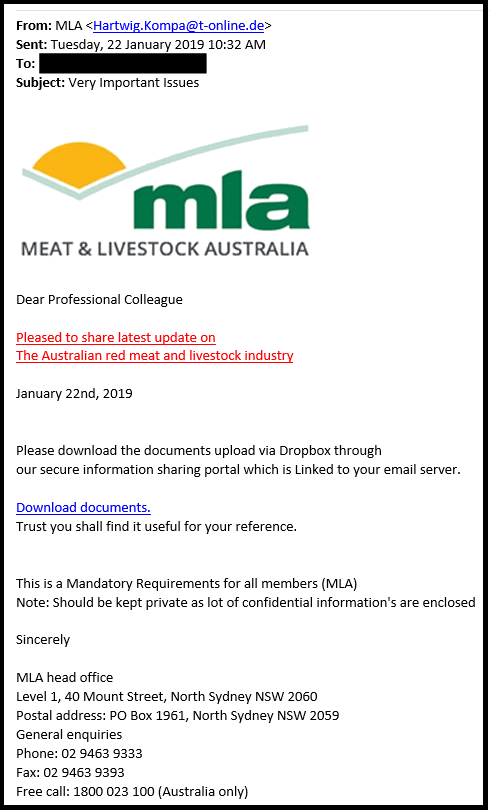 MLA will never email asking you to download anything from a third-party website, nor will we ask you to send any sensitive information such as financial details, identification documents or passwords.
If you have any concerns regarding the authenticity of a message from MLA, whether it be an email, SMS or phone call, please get in touch with staff at our Head Office.
Contact
P: 02 9463 9333
Free call: 1800 023 100 (Australia only)
Email: info@mla.com.au
How to identify a scam
Check the 'from' email address – if it is unfamiliar, be aware it may be a scam.
The email may contain spelling mistakes or grammatical errors.
Scammers could ask you to send sensitive information online, or to click on an illegitimate link.
For more information on how to spot a fake email, visit www.scamwatch.gov.au
Join myMLA today
One username and password for key integrity and information Systems (LPA/NVD, NLIS, MSA & LDL).
A personalised online dashboard that provides news, weather, events and R&D tools relevant to you.
Customised market information and analysis.
Already registered for myMLA?