Englefield Grange wins MSA grainfed honours
29 September 2017
Located close to the Southern Ocean in the South Australian coastal area of Wandearah, mixed farmers Lynton and Sonia Joyce use opportunistic cattle trading for their 300-head capacity feedlot.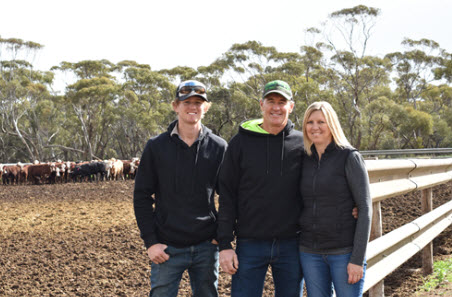 To keep marketing options open, they became registered Meat Standards Australia (MSA) producers in 2010 for their Englefield Grange feedlot.
During the past 12 months, the Joyce's management practices and types of cattle finished resulted in the family being awarded the 2017 MSA Excellence in Eating Quality Most Outstanding Beef Producer – Grainfed award, presented last night at Gawler. (Click here for more details about the SA MSA Awards)
The award for grainfed producers recognises feedlots accredited under the National Feedlot Accreditation Scheme (NFAS) that have produced cattle eligible for Australian Grainfed Beef Standards.
Mr Joyce said being part of the MSA system ensured cattle going through the feedlot could be sold into MSA-accredited processing facilities, including those of their preferred buyers, Austral Meat Adelaide and Woolworths supermarkets.
He said the feedlot was an integral part of the family's 1600 hectare mixed cropping and grazing operation and turned off between 300 and 500 head of cattle annually.
"We produce broadacre winter crops and buy in cattle to graze on native saltbush, clovers and grasses, before moving them on to crop stubbles after harvest and then into the feedlot just after Christmas," Mr Joyce said.
"The feedlot consumes some of our barley and wheat gradings, as well as other grains that we buy locally, some legumes and hay.
"The whole system is highly integrated and works well, reducing business risks and helping to optimise whole-farm profitability through diversity."
Cattle typically spend 70 to 100 days in the Englefield Grange feedlot, from late December to mid-April, and are then sold at weights of about 450kg for Woolworths and about 420kg for Austral Meat Adelaide.
By managing the nutrition of the cattle, the feedlot is able to ensure cattle consistently meet the MSA requirements. These include ensuring carcases have adequate fat coverage, a minimum of 3mm and the meat pH is below 5.71.
Mr Joyce said the preference was to source British Breed stock, but the family often bought Bos Indicus types for finishing as well, predominantly from the saleyards in Dublin.
"We joined MSA as a requirement of our end market, but we have since found it to be highly beneficial in keeping a whole range of market access open to us," Mr Joyce said.
"The system also provides valuable processor feedback about how cattle are performing in our feedlot for a range of eating quality traits.
"This allows us to keep track of different cattle breeds and sources that tend to do well to help shape our future buying decisions."
For more information about the MSA system, visit: www.mla.com.au/msa
To look at your own carcase feedback and use the MSA Index calculator, visit: www.mymsa.com.au
Join myMLA today
One username and password for key integrity and information Systems (LPA/NVD, NLIS, MSA & LDL).
A personalised online dashboard that provides news, weather, events and R&D tools relevant to you.
Customised market information and analysis.
Already registered for myMLA?