Environmentally sustainable grazing management
26 April 2017
Grazing management practices have changed considerably over the past 150 years since the introduction of livestock into Australia. In recent decades, grazing management regimes that incorporate long periods of rest and adjust stocking rates to seasonal conditions have become increasingly prevalent world-wide. These 'alternative' grazing systems have been shown to achieve ecological benefits without sacrificing animal production in various parts of the world.
Little research has been undertaken to develop and understand these alternative practices in the arid and semi-arid rangelands of Australia. It is important to address this gap in order to improve the environmental sustainability of commercial grazing enterprises and profit from the ecological benefits of good management. Advantages include greater ground, plant and litter cover, reduced erosion, and extending biodiversity conservation beyond the public reserve system without the need to remove land from production.
Sarah McDonald, a PhD candidate with the University of New England, Armidale, is undertaking a PhD research project looking at the potential for alternative grazing management systems to integrate livestock production and biodiversity conservation in the NSW semi-arid rangelands, and the trade-offs between the two.
One property studied was a goat enterprise in far western NSW, utilising rotational grazing and adaptive management of stocking rates. On this property, as expected, there were floristic and groundcover differences associated with increased grazing intensity close to water points (i.e. within 500 metres). However, at the paddock or landscape scale further from water (from 500m to 5km), grazing impacts were minimal and there were few differences in groundcover, the number of herbaceous species, or proportion of annual/perennial or native/exotic species between paddocks grazed rotationally by goats for commercial production and a long-ungrazed reference area nearby.
The research shows that appropriate grazing management of goats can be environmentally sustainable and can help conserve western NSW flora, contrary to popular perception. More research is needed on best-management practices for goat enterprises and their effects on the environment, to improve their environmental sustainability without sacrificing productivity.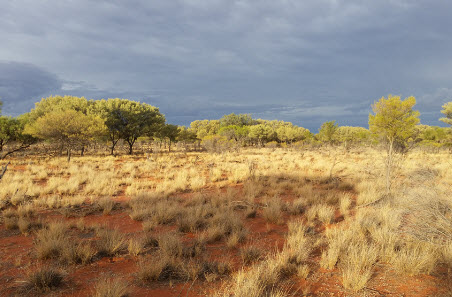 Goat-grazed study site in north-west NSW maintaining good perennial grass cover. Photo courtesy - Sarah McDonald
For more information contact Sarah McDonald at smcdon28@myune.edu.au
Join myMLA today
One username and password for key integrity and information Systems (LPA/NVD, NLIS, MSA & LDL).
A personalised online dashboard that provides news, weather, events and R&D tools relevant to you.
Customised market information and analysis.
Already registered for myMLA?