Feedback gets a refresh
26 July 2017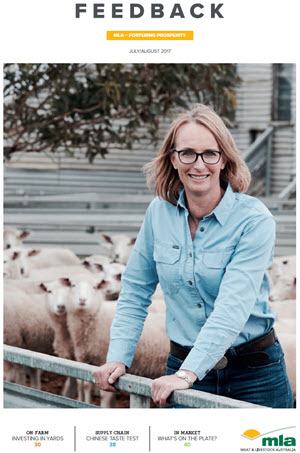 Leading red meat and livestock industry publication, Feedback, has been refreshed with the July/August edition reflecting its new look and format in response to reader feedback.
Produced by Meat & Livestock Australia (MLA), the free magazine is published five times a year and is available to read online or as a printed magazine via subscription to anyone interested in receiving it.
First published in 1999, Feedback offers readers a mix of engaging, inspiring and relevant stories to help inform on-farm business decisions. It also informs readers about how MLA is investing producer levies in marketing and research to foster the prosperity of the industry.
MLA Managing Director Richard Norton said the re-design ensured the magazine remained relevant to time-poor readers, delivering content efficiently and in an easy-to-read format.
"With the last major refresh of Feedback in 2012, it was time to delve deeper into recent feedback from readers and explore how we can deliver content in an enhanced way," Mr Norton said.
"Our readers tell us they enjoy reading about other producers, learning about new on-farm research findings and trying out a good red meat recipe or two.
"So we've kept these much-loved features in the new-look Feedback and expanded the on-farm section with more pages devoted to producer case studies and on-farm research stories.
"The magazine now has distinct sections for 'on-farm', 'supply chain' and 'in market' stories and we've added clear labels for northern cattle, southern cattle, sheep and national (all species) stories.
"The new design also reflects modern trends, providing an uncluttered look and feel and maximising the use of images and other visual elements."
Feedback is available to read online at: www.mla.com.au/feedback
Or to subscribe to the print version, please email: info@mla.com.au
Join myMLA today
One username and password for key integrity and information Systems (LPA/NVD, NLIS, MSA & LDL).
A personalised online dashboard that provides news, weather, events and R&D tools relevant to you.
Customised market information and analysis.
Already registered for myMLA?