Feeding market opportunities
31 October 2017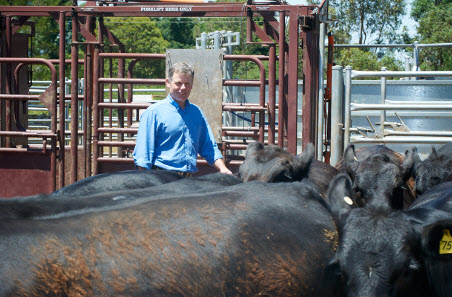 When Chris had the chance to be 'a guinea pig' in on-farm trials for an MLA, JBS Australia and Agriculture Victoria project, he jumped at it.
The project examined strategies to fill feed gaps while still achieving grassfed compliance to help overcome supply issues experienced by JBS Australia in trying to meet growing demand for grassfed beef.
Despite having quality, improved rotationally grazed pastures and dry matter/ha grazing period triggers, Chris sometimes struggled to meet market specifications. Chris runs 300 breeding cows on ryegrass and sub-clover pastures aiming to turn of steers and heifers for the JBS Farm Assured (FA) program at 250-300kg carcase weight.
"I put 108 steers in the project that were targeted for sale via the MSA grass trade yearling market into JBS FA," he said.
"Of those, we identified 36 (using MLA's BeefSpecs tool) as unlikely to meet the carcase weight and fat specifications of the grid.
"By boosting growth rates with an eligible pellet, we estimated we could improve compliance from 59% to 96% for the entire mob."
All steers remained on pasture, however, the lighter mob of 36 had access to pasture and pellets in a feeder and, following an introductory ration of 2.5kg/head/day for five days, were fed 1t/week (4kg/head/day) for 60 days.
The pellet contained an estimated 12.1 ME (MJ/kgDM) and 16.6% crude protein.
By increasing the daily weight gain of the 36 identified steers to 1.7kg/head/day (compared to 1.5kg/head/day for the remainder of the mob) and only three remained outside specs failing on weight, not fat cover.
Was it worth it?
Seven of the pasture only steers did not satisfy MSA requirements: five had fat cover issues and two were dark cutters.
The average carcase weight of the 36 steers (originally the bottom third of the mob) was more than the average of the non-supplementary fed portion – 293kg compared to 286kg.
Chris said although the net increase in profit was modest – $1,096 after an estimated $5,581 for feed, labour and fencing (excluding capital costs such as a pellet silo) were accounted for – there were other benefits.
"By drafting off the smaller steers and managing them separately, the remaining animals had more feed on offer," he said.
"We were also able to sell our entire steer portion in two drafts including the twins, orphans, etc."
Flexible response
Since the project, Chris had another challenging season in 2016, where buying in hay or silage to keep steer weights on track wasn't an option.
Last year, he repeated the exercise of supplementary feeding pellets to the bottom third of his steers.
"There was an even larger variation in the steer weights when I started, with the bottom third about 55–70kg behind the mob average," Chris said.
"I started feeding earlier and used the pellet supplement as my winter feed filler.
"I fed them 5kg/head/day for 60 days before putting them on to spring pastures and, despite the initial weight variation, again managed to sell them all (in two drafts) to the JBS FA program."
This year, thanks to an excellent 2016 spring, Chris has plenty of silage on hand and plans to achieve the same gains – and increased profit – using silage as his grassfed steer supplement.
Information:
Chris Murphy
E: woodhousewest@hotmail.com
A Farm Assurance program manual was developed from the project and can be obtained from Pasturefed Beef Project coordinator:
Maria Crawford, of Agriculture Victoria
T: 0428 554 244
E: maria.crawford@ecodev.vic.gov.au
MLA Beef Specs tool: www.mla.com.au/tools
Livestock Data Link www.ldl.mla.com.au
Pasturefed Cattle Assurance Scheme: www.pcaspasturefed.com.au
Join myMLA today
One username and password for key integrity and information Systems (LPA/NVD, NLIS, MSA & LDL).
A personalised online dashboard that provides news, weather, events and R&D tools relevant to you.
Customised market information and analysis.
Already registered for myMLA?