Finding the right mix
04 May 2017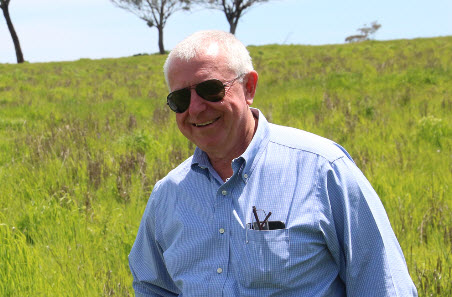 Northern NSW producer Tony Haggarty has a keen interest in new pasture options for his cattle enterprise, having started with rundown pastures on his first property in 2009. He opened his gates to producers for last year's MLA and Grasslands Society Pasture Update, supported by the Southern Australian Meat Research Council. Here hs shares his experiences with pasture rundown at Goonoo Goonoo Station.
When Tony arrived at Goonoo Goonoo near Tamworth after a career in the mining industry, he knew good pastures would underpin his plans for cattle production, which today involves a complex Black Baldy breeding and finishing operation run across five properties. In total he runs 10,000 head of cattle, including 4,500 breeders, on 32,000ha at Tamworth, Quirindi and Murrurundi in northern NSW.
Most of the pastures had been left fallow and were in need of renovation, which started a process of trialling different pasture species and renovation programs before settling on a simple system.
Pasture at Goonoo Goonoo typically consists of phalaris, lucerne, clovers and prairie grass, with the high moisture content on the creek flats helping the phalaris and clovers to do well.
Drier summer conditions and cold winters mean rotational grazing is lightly used, as low rainfall does not make a rotational system economically viable. Tony said at this stage the property tended to be understocked, to allow paddocks to rest and lay down a seed bed, and all management decisions depended on the weather conditions.
"We direct drill oats around March and keep grazing the crop until it expires around the end of November, then we leave the paddock fallow over summer and plant to pasture around April," he said.
"We try to graze our new pastures lightly for the first year or two and give them a good opportunity to go to seed and thicken up in subsequent years."
Tony said tropical species had been trialled on the property but, with the exception of an eight-year-old pasture of predominantly Premier digit grass (planted before his arrival), the experience had not been positive. Agronomists suggested that tropical species would give green feed over the summer, but Tony found that between the lucerne/digit/prairie mix and standing phalaris, there was enough feed to get through to May when forage oats are ready for grazing.
"The digit pasture is very good, but we don't know how it was originally managed. We think it may have been closed up for extensive periods and maybe that is why it has thrived," he said.
"We found that when tropicals don't get a good start in this environment, they are outcompeted by weeds and other grasses, whereas the conventional pastures that we plant in April don't face the same competition and are going strong by spring.
"The ones that we planted haven't been very good. We have had some tough years, so perhaps that's one reason they have failed, but we also feel that our hot, dry spring weather isn't ideal.
"The time when we run short of feed is after a really dry spring and hot summer, and it's more efficient for us to supplementary feed the cattle we are finishing at times like that, because we grow our own barley and have plenty of straw and oaten hay for roughage."
Goonoo Goonoo at a glance
large mobs of cattle in big paddocks with slow rotation
cattle finished to specifications within a set timeframe
300ha lucerne, digit and phalaris pastures planted in autumn for year-round feed
oats planted in March for supplementary winter feed
cattle supplemented with barley and oaten hay when feed is short.
Information:
Tony Haggarty, Goonoo Goonoo
E: THaggarty@xlx.com.au
Join myMLA today
One username and password for key integrity and information Systems (LPA/NVD, NLIS, MSA & LDL).
A personalised online dashboard that provides news, weather, events and R&D tools relevant to you.
Customised market information and analysis.
Already registered for myMLA?