Fine judges of meat
02 March 2018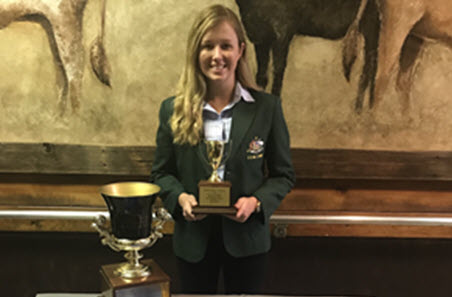 Young Australians are world leaders when it comes to knowing a good carcase. The national Intercollegiate Meat Judging (ICMJ) Team earlier this year won (for the first time in 17 years) a United States meat judging competition. They smashed the record by winning two competitions in the A-Division, the Southwest Invitation and the National Western.
Competition participation is part of a month-long annual tour of the US industry sponsored by MLA and the Australian Meat Processor Corporation. The program builds industry leadership capacity by exposing students to US production systems and supply chains.
The team of five students (selected from the Australian competition) comprised Emily Webb Ware (University of Melbourne), Lachlan Woods (Charles Sturt University), Jake Bourlet (Charles Sturt University), Bridie Luers (Murdoch University) and Harriet Moss (Murdoch University). The team was coached by Tim Ryan (MLA's Market Analyst), Nick van den Berg (project manager and producer) and Sarah Stewart (meat scientist).
Before starting her Bachelor of Science and Bachelor of Veterinary Medicine and Surgery degrees at Murdoch University in Perth, Bridie Luers had never heard of meat judging. Now she's a champion at it and it's taken her to locations near and far.
Here, the farm girl from Kellerberrin in the WA wheatbelt shares her love of assessing carcases and explains how it could set her career direction.
Q: Tell us about yourself
I've been involved with my family's enterprises (a sheep and wheat farm and a stock and station agency) since I was a kid, and they definitely helped shape my interest in livestock production, especially sheep. Since beginning my veterinary studies and attending pracs all over the state on farms and stations, I've developed a real passion for beef production, especially in the north. In November I'm due to graduate and I'm hanging out to move back to the country. Initially, I'm planning to work as a rural mixed-practice vet, then hopefully I can focus more on cattle, sheep and horses. I particularly enjoy bovine and equine reproduction medicine.
Q: How did you get involved in meat judging?
Before starting university, I had never heard of meat judging and could have never imagined how many opportunities it could give me and how far it would take me.
Each year Murdoch takes a team of 10 students to the Australian Intercollegiate Meat Judging competition and I was lucky enough to be accepted into the 2017 team. We trained for the whole of semester one with night lectures to learn the theory, and early morning sessions in the chillers to put our judging into practice. We then competed at Wagga Wagga, NSW in July, and the top 10 were selected for further training and development.
From there I was lucky enough to be selected for the 2018 Australian meat judging team.
Q: What is it about meat judging that makes you love it?
The best part is the people. I've met some truly inspiring people, some really forward-thinking industry leaders, and made some really great mates.
The competitions are great fun and the principles of meat judging are important to know as they underpin our grading systems. What I love even more is that they provide a way to get a lot of like-minded people together to discuss industry issues, current research and future visions.
Q: Share some of the highlights of the US trip:
A visit to Kallion Farms, a Brahman seedstock operation in Texas: the breeding herd come from DNA-testing over 3,000 head of Brahman cattle. With the use of embryo transfer, they've strongly selected for fertility, docility and carcase quality. And they aren't kidding when they say they focus on docility. Going out into the paddock and having a whole cow-calf herd run up to you for a pat proved that.
44 Farms, an Angus stud in Cameron, Texas: this operation has grown from 82 to 8,000 registered Angus cows in 15 years, with a further 3,500 recipient cows. The team at 44 Farms is all about providing the best service to their customers and maintaining excellent client relationships. They recently opened their own shopfront, 44 Farms Steak, and they had one of the most impressive on-farm sale barns I've seen.
During our time in Fort Collins, Colorado, we were lucky enough to have breakfast with (animal welfare and handling specialist) Temple Grandin. It was really interesting learning about her research in production animal welfare and listening to what she believes are the core principles of livestock handling. Getting to meet one of the biggest influencers in the industry is something I will never forget.
And, of course, winning both the Southwest Invitational and the National Western Intercollegiate Meat Judging competitions.
Q: Has ICMJ helped shape your plans for the future?
Yes, definitely. ICMJ has really opened my eyes up to the Australian livestock supply chain.
There are so many elements of production, processing and marketing which I never fully understood or didn't know about, and which are not covered in detail in my veterinary degree. To be a competent production animal veterinarian, the medicine is really only one part of it; I think it will be essential to have a good understanding of the supply chain from paddock to plate to be able to work effectively alongside producers.
Q: How do you like your red meat served up?
Beef – I love a good medium-rare rib eye steak with baked sweet potato and steamed vegetables.
Lamb – can't go past a lamb roast with roasted vegies, or my mum's rosemary-crumbed lamb cutlets.
Information:
The 2018 Australian ICMJ workshop and contest will be held at Charles Sturt University, Wagga Wagga, NSW, on 3–8 July. In addition to the competition, the 2018 program will include industry guest speakers, interactive workshops, hands on training and a careers expo.
Join myMLA today
One username and password for key integrity and information Systems (LPA/NVD, NLIS, MSA & LDL).
A personalised online dashboard that provides news, weather, events and R&D tools relevant to you.
Customised market information and analysis.
Already registered for myMLA?