Fly in for a farm tour
12 April 2018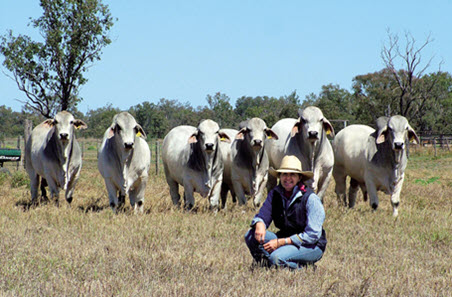 If you're looking for some on-farm inspiration to take your enterprise to the next level, don't miss the Beef Australia 2018 farm tours.
The farm tours will feature some of Queensland's most outstanding properties such as the 'Kaiuroo' aggregation in the heart of the Fitzroy Basin. Producers attending Beef Australia 2018 will be offered the unique chance to fly to Kaiuroo and spend the day seeing the enterprise in action. It's one of 10 property tours being offered as part of the event, with options ranging from half-day tours through to a full platinum experience.
Managers Jennifer McCamley and Tom Emmery oversee the production of organic beef, supplying 144 carcases to Australian Organic Meats each month. The enterprise also makes a significant research contribution via their seedstock herd to Brahman BREEDPLAN through an MLA Donor Company (MDC)-funded project.
Overseen by Animal Genetics and Breeding Unit (AGBU) researcher Matt Wolcott, the project is intensively genotyping and collecting accurate records for male and female reproduction, growth and tropical adaptation traits in Kaiuroo stud bulls and females during the next three years.
"Kaiuroo is well connected to the Brahman seedstock population and to the MLA-supported Repronomics project," Matt said.
"The phenotypic and genomic data collected as part of the MDC project will improve the accuracy of estimated breeding values (EBVs) describing economically important reproduction traits in animals, related to the Kaiuroo herd, throughout the Brahman breed."
As part of the Beef Australia 2018 tour, AGBU researchers involved in the MDC and Repronomics projects will be presenting early results of the projects.
This will be supported by displays of intensively recorded young bulls and females from the Kaiuroo seedstock herd, which bear out the breeding objective of producing highly reproductive, fast growing animals which consistently comply with the organic market.
During the farm tour, Tom and Jennifer will give participants an insight into their production system that includes organic pastures and fodder crops and a state-of-the-art flood irrigation system that irrigates almost 1,000ha of leucaena.
"Leucaena has been a really successful planting here. It underpins our whole production system, enabling us to turn off animals each month at a carcase weight of 250kg that satisfy Australian Certified Organic and USDA Organic standards," Tom said.
More information:
Book tickets for property tours
Find out more about what MLA will be doing at Beef Australia, visit beefaustralia2018.mla.com.au
Find out more about Kaiuroo, visit kaiuroo.com
Join myMLA today
One username and password for key integrity and information Systems (LPA/NVD, NLIS, MSA & LDL).
A personalised online dashboard that provides news, weather, events and R&D tools relevant to you.
Customised market information and analysis.
Already registered for myMLA?