Focus on breeding and handling underpins MSA gains
07 December 2017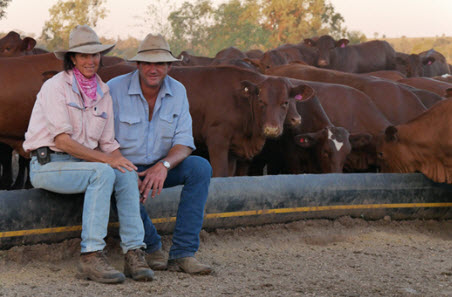 Producing cattle that consistently achieve high performing Meat Standards Australia (MSA) results is based on three key factors for Queensland beef producers, John and Mary Atkins.
Sourcing bulls with excellent temperament, using low-stress stock handling techniques and having cattle on a rising plane of nutrition have underpinned the Atkins' success in continuously improving the MSA compliance rates of their cattle.
Based at the 4,141ha 'Spion Kop' at Taroom, John and Mary won the inaugural Progress Award for Queensland at the 2017 MSA Excellence in Eating Quality awards presented at Gympie in September. The award recognised the producer with the greatest improvement in their MSA results since 2014–15.
DIY breeding and feeding
Since purchasing the 4,500 square kilometre 'Marqua Station' in the Northern Territory in 2011, John and Mary have been breeding all of their own cattle, occasionally buying in steers to fatten.
"All of our weaners are bred at Marqua Station and trucked each year to Spion Kop," John said.
The Atkins grow all of their own oats and silage at Spion Kop for use as supplementary feed and to help manage their predominantly buffel grass pastures.
"Silage is used to feed weaners that are trucked in from the Territory," John said.
"With the benefits of silage and oats during the winter period, all cattle are on a rising plane of nutrition and our buffel country is destocked and spelled during the winter, giving us more grass cover and hence a quicker response when the season breaks. The longer it stays dry, the better these management tools work."
Selecting for temperament first
The Atkins believe a focus on breeding and low-stress stock handling have contributed to their ongoing improvements in the MSA program.
"We buy Santa Gertrudis bulls each year from Dangarfield Stud here at Taroom, with the main traits we select are temperament and fertility, then confirmation," John said.
"All our weaners are handled by a professional weaner handler both in the Northern Territory and here at Spion Kop.
"So depending on the season in the Territory, any steers that are left there are handled along with all of our replacement females. All weaners that get trucked here to receive weaner handling, which contributes to the quietness, ease of mustering and trucking."
The Atkins believe winning the MSA Progress Award for Queensland was great recognition for the quality of cattle they're turning off.
"For our trade heifers that have graded well, there hasn't been any significant financial gain yet, but we do feel that there will be – the grading of our cattle is improving all the time," Mary said.
"We know that there are many hidden benefits from our cattle being well handled and quiet. They're less stressed, they travel well and it reduces incidences of dark cutting and high pH carcases."
Compliance pays off
MSA Producer Engagement Officer Jarrod Lees said the Atkins won the Progress Award due to their improved compliance to both pH and rib fat requirements.
"Their average MSA Index scores have also increased by more than five points since 2014–15, which can be attributed to factors including lower ossification scores," Jarrod said.
"The management practices the Atkins have put in place have been a contributor to this improvement in MSA performance. This includes the use of silage as a supplement ensuring adequate nutrition all year round which in turn minimises development of ossification by providing a steady growth path.
"The attention to their weaner cattle is reflected in improved compliance to pH as cattle are more accustomed to new and stressful situations."
More information
Jarrod Lees
MSA Producer Engagement Officer
T: 07 3620 5226
E: jlees@mla.com.au
Join myMLA today
One username and password for key integrity and information Systems (LPA/NVD, NLIS, MSA & LDL).
A personalised online dashboard that provides news, weather, events and R&D tools relevant to you.
Customised market information and analysis.
Already registered for myMLA?