Front foot campaigns in Korea
08 June 2017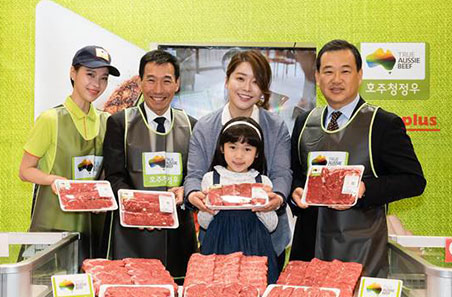 With competition mounting from US beef in Korea, MLA has been working with exporters, distributors and Korean retailers to grow sales of Australian beef through a series of 'True Aussie' promotional campaigns.
Homeplus promotions
Korean retailer, Homeplus, has 142 stores and is a loyal customer of Australian beef, with sales doubling over the past year.
To formalise the cooperative relationship between MLA and Homeplus, both organisations signed a new Memorandum of Understanding on 25 April 2017, with both parties making a commitment to supporting each other to grow sales.
Homeplus CEO Kim Sang-hyun said "Based on this agreement, we will strengthen our supply of high-quality Australian beef for customers while supporting the development of the livestock industry.
"We will do our best to help consumers understand the superior quality of 'True Aussie' beef by working closely with MLA."
Following the signing, Homeplus and MLA ran joint 'True Aussie' beef promotions from 27 April to 2 May. This included:
Homeplus launching the new 'True Aussie Beef Family Pack', allowing families to enjoy high quality Australian beef at affordable prices.
Tasting and giveaway events to promote sales. Customers who purchased more than 20,000 KRW worth of Australian beef received free herbal salt seasoning
The Australian Ambassador to Korea and CEO of Homeplus participated in a PR event to promote Australian beef, recording 285,584,000 KRW worth of PR value through 21 media articles.
Sales of Australian beef at Homeplus during the promotion period reached around 1.39 billion KRW (A$1.65 million), up by 226% on the same period of last year.
E-Mart Traders spring promotion
'True Aussie' beef participated in a spring promotion event at all 11 stores of E-Mart Traders from 17 April to 14 May.
E-Mart Traders offered thirteen cuts during the promotion period, including steaks such as sirloin, tenderloin and striploin as well as selections for grilling and braising.
MLA supplied nearly 400,000 'True Aussie' beef brochures containing information about the cuts, prices and safety of Australian beef. 'True Aussie' banners were hung in stores, and large 'True Aussie' beef brand experience tents were erected instore. Sales of the 13 promotional Australian beef cuts reached 3,107,734,000 KRW (A$3.7 million), up by 500% above regular sales.
MLA has also recently activated new 'True Aussie' beef promotions at other large Korean retailers including E-Mart supermarkets, LotteMart and Lotte Vic Market.
"Australia has been number one among imported beef suppliers for 13 years now in Korea and with these promotions, we aim to remain so," said Charlie Ko, MLA's Country Manager – Korea.
Consumer Loving Brand Awards
In other news, 'True Aussie' has recently been nominated for the '2017 Consumer Loving Brand Awards' where the best brand of the year in each industry will be selected, based on consumer preferences.
More information
Charlie Ko
MLA Country Manager - Korea
E: cko@mla.com.au
Join myMLA today
One username and password for key integrity and information Systems (LPA/NVD, NLIS, MSA & LDL).
A personalised online dashboard that provides news, weather, events and R&D tools relevant to you.
Customised market information and analysis.
Already registered for myMLA?