Gaining frank business advice
04 November 2016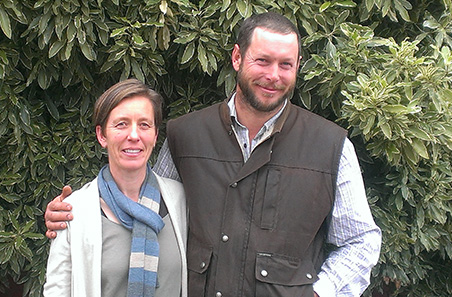 MLA is taking a new approach to how it extends its research and development with a pilot program that hinges on producers adopting practices to improve profitability and productivity with the guidance of specialist coaches.
Profitable Grazing Systems is being piloted with 95 producers across the nation, and takes the traditional 'workshop' approach to a new level.
Stuart and Anja Croft joined the pilot to critically assess their business and identify areas for improvement.
The family-run wool and lamb enterprise, which includes Stuart's parents Alex and Margaret, stretches from their home property, 'Dalarossie', at Heywood, Victoria, to leased country at Hamilton and Harrow, and a grazing block between Balranald and Ivanhoe in NSW. They also have a small herd of Murray Grey breeders on a coastal block in south-west Victoria.
At the crossroads
The business expansion began after Stuart returned home from university 18 years ago and has now reached a point where it is time to assess 'where to from here?'
"Prior to starting this program, circumstance was our main decision-making tool," he said.
"For example, if we had surplus stock, we either had to sell good genetics or find land for them, so we bought or leased properties.
"We have expanded our assets and ramped up production, so the actual business side of the business is the next step."
Perfect timing
Stuart said the timing of a local Profitable Grazing Systems pilot program was perfect.
"We wanted to step back and critically analyse the business's strengths and weaknesses, to guide decision-making to move forward," he said.
Stuart and Anja went into the first meeting, led by James Whale, with an open mind. They came out inspired and enthusiastic to take a good, hard look at how their business was structured.
"In the first session, James worked through financial ratios to assess economic performance, and it was really insightful," Stuart said.
"We applied principles such as turnover ratios and cash income versus assets to one year of our business, which gave us a snapshot. I'm looking forward to applying it to other years to build up a picture over time."
Business focus
Stuart and Anja have already identified an area to focus on in their business.
"We have a large asset base and good production levels, but aren't getting the cash flow to match," he said.
"We want to use the sessions and coaching to work out why. Is it our production system? Are our expenses too high? Is our leased land not pulling its weight, or is it something else?"
He said that in the past they had not been able to find a 'go-to' person who could provide frank business advice for a grazing enterprise.
"We've gone to workshops before, come home inspired, and then never made the time to actually implement a thing. The format of this program – with the coaching and group components – allows us to build relationships, and access the information and advice we need in smaller bites over time so we can maximise the learning outcomes."
With a young family and his parents to consider, Stuart said he also enjoyed meeting other producers and learning from their experiences with running multi-generational businesses.
The first session also gave Anja, with her non-farming background, a deeper understanding of what debt levels are manageable in an agricultural business.
Picture of success
So, what does 'success' from Profitable Grazing Systems look like to the Crofts?
"We would love to be in a position where we understand why our business is whereit is, so we can work out for ourselves where we are going right or wrong."
More information
Stuart and Anja Croft
E: dalarossie.pc@gmail.com
Snapshot
Stuart and Anja Croft and Alex and Margaret Croft, located in the south-west Victoria and Western Division of NSW.
Property: 1,600ha in Victoria (owned and leased), 24,300ha in NSW
Enterprise: Wool and lamb production; cattle production
Livestock: 6,000 Merino ewes, 4,000 commercial Corriedale ewes, 400 stud Corriedale ewes, 60 Murray Grey breeders
Pasture: Victoria – improved pastures interspersed with cropping; NSW – saltbush/bluebush based rangelands
Soil: Victoria – heavy volcanic soils; NSW – mixture of red rises and heavier grey swamps
Rainfall: Victoria 800mm; NSW 250mm
Join myMLA today
One username and password for key integrity and information Systems (LPA/NVD, NLIS, MSA & LDL).
A personalised online dashboard that provides news, weather, events and R&D tools relevant to you.
Customised market information and analysis.
Already registered for myMLA?