Gaining the global view and acting locally
07 June 2017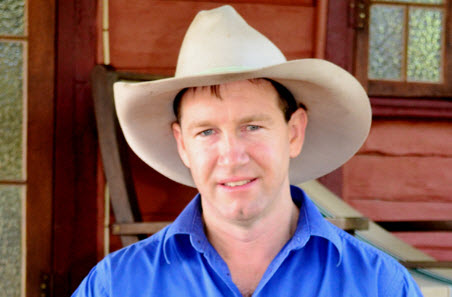 In 2014, Charters Towers beef producer Michael Lyons used an MLA-supported Nuffield Scholarship to study innovative ways of managing natural resources to create highly profitable grazing businesses.
Today, Michael chairs the North Queensland Beef Research Committee, which helps set the direction for beef research and assess projects for funding by MLA. He is also a member of MLA's National Livestock Genetics Consortium Taskforce.
What did you gain from the Nuffield experience?
I was looking for ways of working with nature to produce 'more with less'. On the production side, I investigated selection for cattle that were adapted to their environment, meaning lower input costs.
In our herd, we have cows that are well adapted to their environment, as they have been able to produce a calf every year for up to 13 years. This is an amazing feat in our northern environment; however, these cows are getting old and are unlikely to have many more calves. We are now using these cows with long calving histories, good breeding values and genomic information in an in vitro fertilisation (IVF) program to produce adapted, polled and fertile progeny.
This allows us to produce cattle that suit our environment and our business.
Travelling overseas and learning from progressive people broadened my knowledge and challenged my paradigms, and has resulted in a network of great people to 'bounce' ideas off. The experience also gave me the confidence to back my opinions and take up the invitation to join MLA's National Livestock Genetics Consortium Taskforce.
What was one key lesson about leadership from the Nuffield experience?
Leadership of others is about setting clear expectations, ensuring people have the relevant skills and experience, and then providing timely feedback. Great leaders do these three simple things well.
Information
Michael Lyons
E: mmlyons@bigpond.com
Applications for the 2018 intake of Nuffield Scholars close on 16 June 2017. Go to www.nuffield.com.au
Join myMLA today
One username and password for key integrity and information Systems (LPA/NVD, NLIS, MSA & LDL).
A personalised online dashboard that provides news, weather, events and R&D tools relevant to you.
Customised market information and analysis.
Already registered for myMLA?