Getting the most out of your data
10 May 2017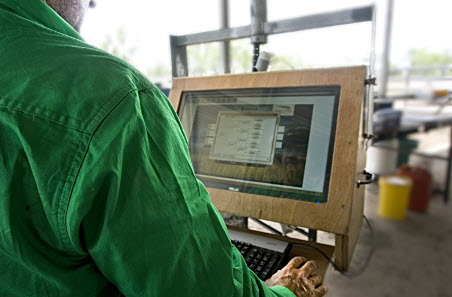 Despite challenges - such infrequent mustering and distance - research has revealed collecting crushside data in northern cattle enterprises can be a valuable exercise.
A research project involving MLA Donor Company, McDonald's Australia Ltd, Ausvet and Paraway Pastoral Company found collecting the right data can assist in making management decisions, particularly in relation to husbandry.
The project was part of a larger focus on enhancing industry sustainability and sought to gauge the potential for increasing enterprise efficiency and product integrity through raw data capture and analysis.
The research team identified the technology and processes required for viable crushside data capture, and examined why, what, how and when a producer should record data.
Why record
The research found that the first step to getting data collection right was knowing the 'why' and what on-farm management decisions needed to be made. Once the 'why' is known, producers can work out 'what' data is needed.
What to record
Most commonly, producers collect data about liveweight gain, birth year, pregnancy status, predicted month of calving and lactation status of breeders.
The team discovered that liveweight measures were problematic and required additional protocols for checking, identifying and removing errors. However, it found spreading weight measures across a set time-span with weigh-ins at least 60 days apart may allow comparisons of:
average performance from year-to-year
different cohorts of animals
individual performance against cohort and historic means.
This could then underpin examining performance based on kg/Animal Equivalent (AE) and cost of production/AE year-on-year or individuals against the cohort.
To achieve standardised measures:
record liveweight at key times and average gains over time
establish accurate lactation status with two separate recordings a year (two mustering occasions). Recording wet/dry on a single occasion has an increased risk of error by missing calving events that occur afterwards
use automated routines built into the database to define reproductive measures and utilise resources like CashCow.
How to record
The project team reviewed an on-farm data collection system using RFID readers with portable storage devices, manual data collection and a companion software package.
This approach was chosen because data collection in most northern and remote enterprises normally involves a mix of automated (date, time, property, paddock, EID, weight) and manual (pregnancy status, wet-dry, body condition score) data collection.
The research concluded that harvesting crushside data through electronic systems should be considered on a case-by-case basis against the individual data needs and operational limitations of each property. While the research revealed the value of data collection, it also recognised the time and connectivity limitations many producers would face when harvesting data.
Choosing customisable software and storing data on the cloud has advantages, including:
no investment in personal servers or complicated IT solutions/upskilling is required
storage can be outsourced to commercial providers who can generate analysis reports and manage and maintain data
storage can be scaled, so producers only pay for what they use
secure, low cost (per storage unit) data storage with routine backups.
A system that offers immediate data upload offers scope for rapid reporting and is more likely to encourage compliance, improved performance and effective use of reports.
The bottom line
The research concluded that for producers to maximise the value of the data they capture, they need to first understand why data is being collected and how it can be aggregated and analysed to produce standardised production and performance measures.
The research also found that that simple data capture protocols that are consistent, embedded into routine practices and are part of a system providing immediate feedback to property staff on data errors and livestock issues will help improve enterprise efficiency through timely, informed decision making.
Benefits of crushside data collection
harvesting data and using it to generate operational reports can inform management, drive efficiency and assist in timely decision making
data may provide a clearer picture of animal performance relative to factors like climate and genetics.
Challenges of crushside data collection
connectivity problems mean that direct upload from crushside to a central database is a challenge. Uploading at the homestead/office is viable, but requires technical approaches to deal with limited bandwidth
writing down data at the crushside for upload into a program carries a risk of human error (when crushside errors occur, anomalies are not often apparent until data comparison with already existing information takes place).
Resources
National Livestock Identification System
CashCow
Could your herd be more productive? and Technical synopsis: CashCow findings
Join myMLA today
One username and password for key integrity and information Systems (LPA/NVD, NLIS, MSA & LDL).
A personalised online dashboard that provides news, weather, events and R&D tools relevant to you.
Customised market information and analysis.
Already registered for myMLA?