Getting the principles of pasture management right
18 May 2017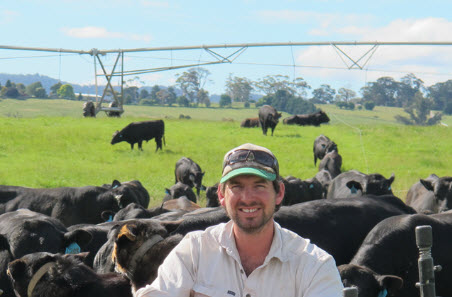 When Jock Hughes went looking for ways to use more pasture while maintaining small stud mobs, he wanted management practices that were both time and cost effective.
After completing the Australian Wool Innovation Lifetime Ewe Management course and continuing on to the Pasture Principles program, he presented his approach to producers at the MLA-sponsored Red Meat Updates conference in 2016.
The Hughes' family seedstock business, Cluden Newry Angus, about 25km south of Launceston, combines Angus cattle, prime lamb production and opportunity cropping. Before the Hughes began their improvement program, the property was understocked, with a lack of grazing pressure leading to lower quality regrowth and infestations of grass weeds like browntop bent.
Jock knew there were obvious benefits to rotational grazing before beginning the Pasture Principles program but had avoided rotations. The need for small cow mobs for single-sire mating and small bull mobs for managing social behaviour made grazing management challenging.
The Pasture Principles program, which uses modules from MLA's More Beef from Pastures and Making More from Sheep, helped Jock understand the relationship between plant requirements and leaf emergence rates and pasture growth, and assisted with feed budgeting and planning. Key areas of the program included measuring and predicting pasture growth, allocating pasture on a dry matter basis and understanding animal requirements for maintenance, growth, pregnancy and lactation.
"There was plenty of useful information around pasture growth habits and ways to maximise production, utilisation and persistence, which made the extra work associated with rotational grazing management worthwhile," Jock said.
The Hughes family started small, implementing infrastructure and management changes on irrigated ground where lost opportunities were most obvious, before moving on to dryland pastures.
"Using an irrigation system developed for cash crops had enabled us to grow more ryegrass, but then we had to manage that feed to ensure we got a maximum return on our time and money investment," Jock said.
Successful implementation also hinged on training animals to respect electric-tape fencing, as well as further investment in stock water systems.
Jock said the learning didn't stop when the Pasture Principles program ended. He has sought advice from an agronomist and still meets with his producer group for advice and ideas for further improvements to the property systems.
"Checking what fellow producers are doing, especially with regards to managing livestock on centre pivot irrigation, including fencing and water infrastructure, has helped our enterprise continue to improve," he said.
Jock's pasture management gains
stocking rates can be maintained through dry years without off-farm supplementation.
stocking rates have increased by 25%.
pasture response to rain has substantially improved.
the increase in sheep mob sizes has cut the time spent checking mobs.
cattle have become used to human handlers and show less flight tendency.
…pasture management pains
we are tied to the farm because stock have to be moved every three days.
keeping crossbred ewes within grazing cells has proven difficult.
controlling weight gain in pregnant ewes to avoid lambing risks has been hard.
ewes need to graze dry matter right down, which goes against the ideals behind Pasture Principles.
…and his go-to digital tools
Pastures from Space – a satellite-based resource to monitor pasture coverage and growth rates
Excel spreadsheets – to plan for feed excesses and shortages
apps for stock movements – we are investigating tools to streamline recording of stock movements
This case study is featured in the May/June 2017 edition of MLA's Feedback magazine. Read the rest of the magazine online at www.mla.com.au/news-and-events/publications/feedback-magazine/
More information:
Jock Hughes:
E: info@cludennewry.com.au
www.redmeatupdatesdotcom.files.wordpress.com/2016/03/jock-hughes.pdf
www.www.cludennewry.com.au/
www.pasturesfromspace.csiro.au/
Pasture Principles is a grazing management program designed and delivered by Macquarie Franklin www.macquariefranklin.com.au/current-projects/
Making More From Sheep www.mmfs.com.au
More Beef from Pastures www.mbfp.mla.com.au
Join myMLA today
One username and password for key integrity and information Systems (LPA/NVD, NLIS, MSA & LDL).
A personalised online dashboard that provides news, weather, events and R&D tools relevant to you.
Customised market information and analysis.
Already registered for myMLA?