Heat load model set to be re-evaluated
07 December 2017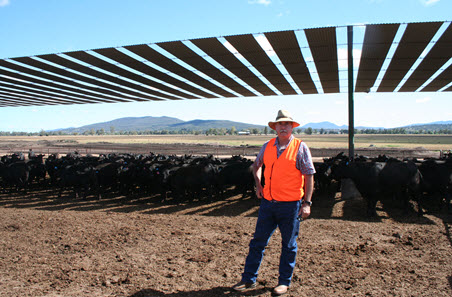 A new MLA project to re-evaluate the model used in the feedlot industry to predict climatic conditions and their impact on cattle in heat events is underway, with data collection being undertaken this summer.
The project is being funded by grainfed levies and the Australian Government in consultation with the Australian Lot Feeders' Association (ALFA).
Associate Professor John Gaughan from The University of Queensland is leading the project in collaboration with Charles Sturt University and nutritional and veterinary consultants in the industry.
Associate Professor Gaughan said the project would re-evaluate the algorithm used to develop the current heat load index (HLI). The existing model uses black globe temperature, relative humidity and wind speed to calculate an index that reflects the impact of the surrounding climate on feedlot cattle in significant heat events.
"We developed the algorithm in the early 2000s based on cattle observations including respiration rate, panting score and body temperature, and came up with a model to be a predictor of climatic conditions so lot feeders could prepare for and manage their potential impacts," Associate Professor Gaughan said.
"Our goal was always that we would reassess that sometime in the future. Over the last five or six years, we've seen that the model works well all of the time in some areas, but not so in other areas.
"We have thresholds in the model for different genotypes and we want to re-evaluate those threshold values."
Data collection for the project officially started on 1 December and will continue through to the end of March 2018 at two feedlots in Queensland, three in NSW and one in Victoria.
"We chose feedlots based on geographical location and different climatic zones," Associate Professor Gaughan said.
"The feedlots also represent a diversity of cattle to take into consideration the different days on feed and genotypes."
In conjunction with Environdata, two new weather stations have been installed at each participating feedlot to remove potential bias in weather data. The weather stations have been calibrated, with this process set to continue throughout summer.
"The weather stations are sending us live, real-time data and we're using Katestone's seasonal heat load forecasts and feedlots managers' assessment of their cattle to determine the extent of high heat events.
"If we see a period of hot weather coming, we'll go to the feedlot that's going to be affected and spend four consecutive days collecting data. That will probably involve six visits to each feedlot over the course of the summer.
"Each feedlot has 16 pens of cattle participating in the research and we'll make observations of those cattle four times a day, collecting animal behavioural data and dry matter intake data."
Panting score, location in pen, whether cattle are at the feed bunk or drinking and if they are standing or lying down will be among the observations being recorded. Researchers will be observing dry matter intake 14 days before and 14 days after a heat event.
"Eventually, we'll also have data on the growth performance of the cattle involved," Associate Professor Gaughan said.
The data collection phase of the project involves a team of 12 people, working closely with feedlot managers and staff across the six sites.
Once the data collection phase is complete, work will begin on re-evaluating the heat load algorithm.
"Statistical analysis of the data collected is quite complex but we have a team of statistical experts who will work through the data," Associate Professor Gaughan said.
Join myMLA today
One username and password for key integrity and information Systems (LPA/NVD, NLIS, MSA & LDL).
A personalised online dashboard that provides news, weather, events and R&D tools relevant to you.
Customised market information and analysis.
Already registered for myMLA?