How to prevent arthritis in sheep
12 October 2017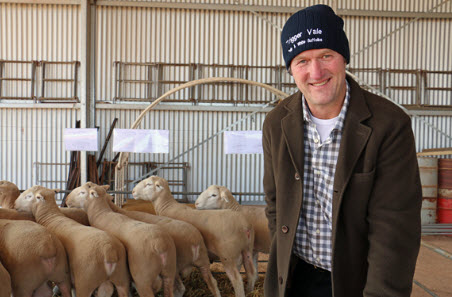 Preventable arthritis is compromising growth rate and condition score in the nation's prime lambs flocks, according to Thomas Foods International (TFI) Lamb Supply Chain Coordinator, Dr David Rutley.
David said incorrect tail docking increased the prevalence of arthritis in lambs, resulting in a loss in profit for the producer. He said apart from trimming loss during processing, growth was also reduced by arthritis.
TFI has collected sheep disease data for the past 10 years with a focus on food safety, and is participating in a MLA Donor Company-funded project on reducing endemic conditions in sheep.
Under the $3 million project, 21 sheep health issues will be recorded, analysed and communicated to South Australian producers, including grass seeds, pneumonia, arthritis, sheep measles and rib fractures.
When it comes to arthritis, docking lambs' tails to two knuckles increased the prevalence of the disease, David said.
"The skin pulls tighter, it takes longer to heal and there is more chance of infection lodging in the joint, causing arthritis,'' he said.
"The growth of arthritic lambs is reduced, as seen in lower hot standard carcase weights. They also have less GR fat than healthy lambs.''
There is a growing realisation that disease information on sheep and lamb carcases needs to be fed back to producers, who can then take the necessary corrective action. Disease information from the South Australian project and Animal Health Australia's National Sheep Health Monitoring Project will be reported back to producers via MLA's Livestock Data Link (LDL).
LDL facilitates information sharing in the supply chain on carcase compliance and animal health conditions identified by post-mortem inspection on downgraded, diseased or condemned carcases.
David said the information from LDL, combined with chiller feedback, DEXA technology for measuring lean meat yield and the Sheep CRC's big data application, ASKBILL, would all become useful tools to ensure customer expectations are met.
"We need to think about the consumer – food safety, portion size and eating quality is important to them,'' he said.
"Consumers expect consistency and consistency provides opportunity.
"The chef wants to know that meat has been cut evenly, has a low pH and how much connective tissue it contains so they can cook it perfectly for the consumer.
"Shelf life, temperature control and oxygen exclusion is important for the wholesaler and butcher so he can supply safe, high quality meat to the chef and consumer.
"All of those issues, plus yield, are important to the processor.
"For the producer, it is all about fertility, survival, growth and feed conversion.
"But, the producer and the whole supply chain must also think about what the consumer wants so they can receive a good price for their lambs.''
More information:
Dr David Rutley
Lamb Supply Chain Coordinator
E: david.rutley@thomasfoods.com
Join myMLA today
One username and password for key integrity and information Systems (LPA/NVD, NLIS, MSA & LDL).
A personalised online dashboard that provides news, weather, events and R&D tools relevant to you.
Customised market information and analysis.
Already registered for myMLA?