Indian carabeef exports set to increase in 2018
16 January 2018
Despite all the challenges faced by the beef/buffalo meat industry in India, it remains a key exporter alongside Brazil, Australia and the US. India has the world's largest bovine population at an estimated 304 million head (cattle and water buffalo) and has a strong presence in South-East Asia and the Middle East regions.
Key Outlook:
The cattle/water buffalo herd size, as well as production, is forecast to increase in the coming years. This is mainly driven by the domestic growth in the dairy sector as private investment and government support increases.
Beef and Indian buffalo meat production is expected to reach 4.25 million tonnes cwt in 2017 and increase by 1.2% in 2018, to 4.3 million tonnes cwt.
Indian buffalo meat shipments are expected to rise in 2018 driven by demand from the Middle East, Africa and South-East Asia; however, volumes are to forecast to remain below the 2014 peak.
The Indian beef and buffalo meat sector remains a volatile market and is highly vulnerable to domestic and international trade regulations.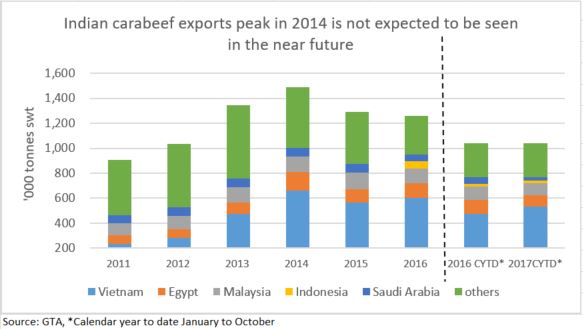 The bovine industry has developed in India despite the fact that slaughtering cows and consuming beef/buffalo meat goes against most of India's culture and Hindu religion. Most Indian states restrict or prohibit the slaughter of cattle due to religious sensitives, so India's meat sector mainly depends on slaughter of unproductive water buffalo cows and bulls from the dairy sector. As water buffalos account for around 45% of the dairy herd in India, the growth in Indian buffalo meat production is largely driven by the expanding dairy industry.
Buffalo meat is India's second most consumed animal protein after chicken (mostly due to affordability) and is mainly consumed by people of Muslim and Christian faiths.
India is the current leader of beef and buffalo meat global exports, with more than 40% of its total production shipped to South-East Asia and the Middle East The primary export markets for Indian buffalo meat are Vietnam, Malaysia and Egypt, with frozen accounting for almost 100% of shipments to these markets.
Shipments to Iraq, Indonesia, Russia and Turkmenistan increased considerably in 2017. The entry of Indian buffalo meat into the Indonesian market in mid-2016, combined with high Australian cattle prices and the Indonesian government policies to achieve self-sufficiency, is considered to have impacted Australian live cattle and beef box shipments in 2017.
India is also growing its presence in the Middle East and competition is likely to increase in some Australia's exports markets, such as UAE and Saudi Arabia. India is very price competitive on the global stage, being the largest and most affordable supplier of frozen commodity beef, which is supporting its growth in price sensitive markets.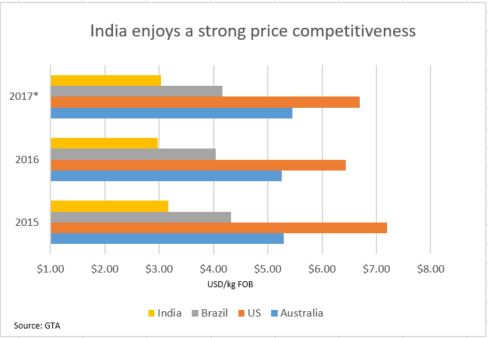 However, India does not have Foot and Mouth disease free status, limiting its presence in many markets, in particular access to Australia's high value markets such as Japan, the US, Korea and the European Union, with change unlikely in the short to medium term.
For more information on the Indian industry click here
Join myMLA today
One username and password for key integrity and information Systems (LPA/NVD, NLIS, MSA & LDL).
A personalised online dashboard that provides news, weather, events and R&D tools relevant to you.
Customised market information and analysis.
Already registered for myMLA?