Indonesia issues 100,000 tonnes of Indian buffalo meat permits
01 March 2018
Key points:
Inclusive of allocations rolled-over from 2017, permits to import 100,000 tonnes of Indian buffalo meat have been issued to state-owned food distributor, BULOG
Permits a response to overall beef shortage in Indonesia and sustained high prices
Indonesia to remain key trading partner but permits pose further challenge to live export trade, in addition to 5:1 feeder-breeder policy and underlying high cattle prices
Indian buffalo meat has increased penetration in Indonesian wet markets, small-to-medium manufacturing and foodservice segments
Indonesia has issued permits for an additional 100,000 tonnes of Indian buffalo meat, valid until the end of 2018, as part of continued efforts to keep beef prices affordable.
If fully utilised, the permits reflect a further increase in competition in a market worth A$1.09 billion in export receipts to the Australian cattle industry.
Indonesia is a key beef trading partner with Australia. It is ideally located for the northern cattle export trade and beef consumption in Indonesia is expected to increase by 160,000 tonnes cwe by 2021 (BMI).
In 2017, Indonesia received 60% of Australia's live cattle exports, was the fifth largest beef export market and was the leading destination of beef offal exports.
However, fresh permits must be considered in context of an overall beef shortage in Indonesia, with the local cattle herd unable to meet demand in a country of 264 million people.
In the current market, the cost of cattle in Australia – due to an ongoing herd rebuild – is having a far greater impact on the live and boxed beef trade to Indonesia than additional Indian buffalo meat entering the market.
Indian buffalo meat impacting Australian exports
Indian buffalo meat was first granted access to Indonesia in August 2016 as a measure by the Indonesian government to tackle high local beef prices and to reduce the reliance on Australian imports. The first series of permit allocations were for 110,000 tonnes (for the period of August 2016 to December 2017), almost double the volume of Australian beef exports to Indonesia in 2016, but only about 78% of permit allocation was realised.
The entry of Indian buffalo meat has made Indonesia an increasingly challenging market for Australian exports, alongside high cattle prices and increased regulatory complexity. Live cattle shipments to Indonesia were down 16% year-on-year in 2017, at 512,000 head. Boxed beef exports declined by 19% year-on-year, to 50,000 tonnes swt.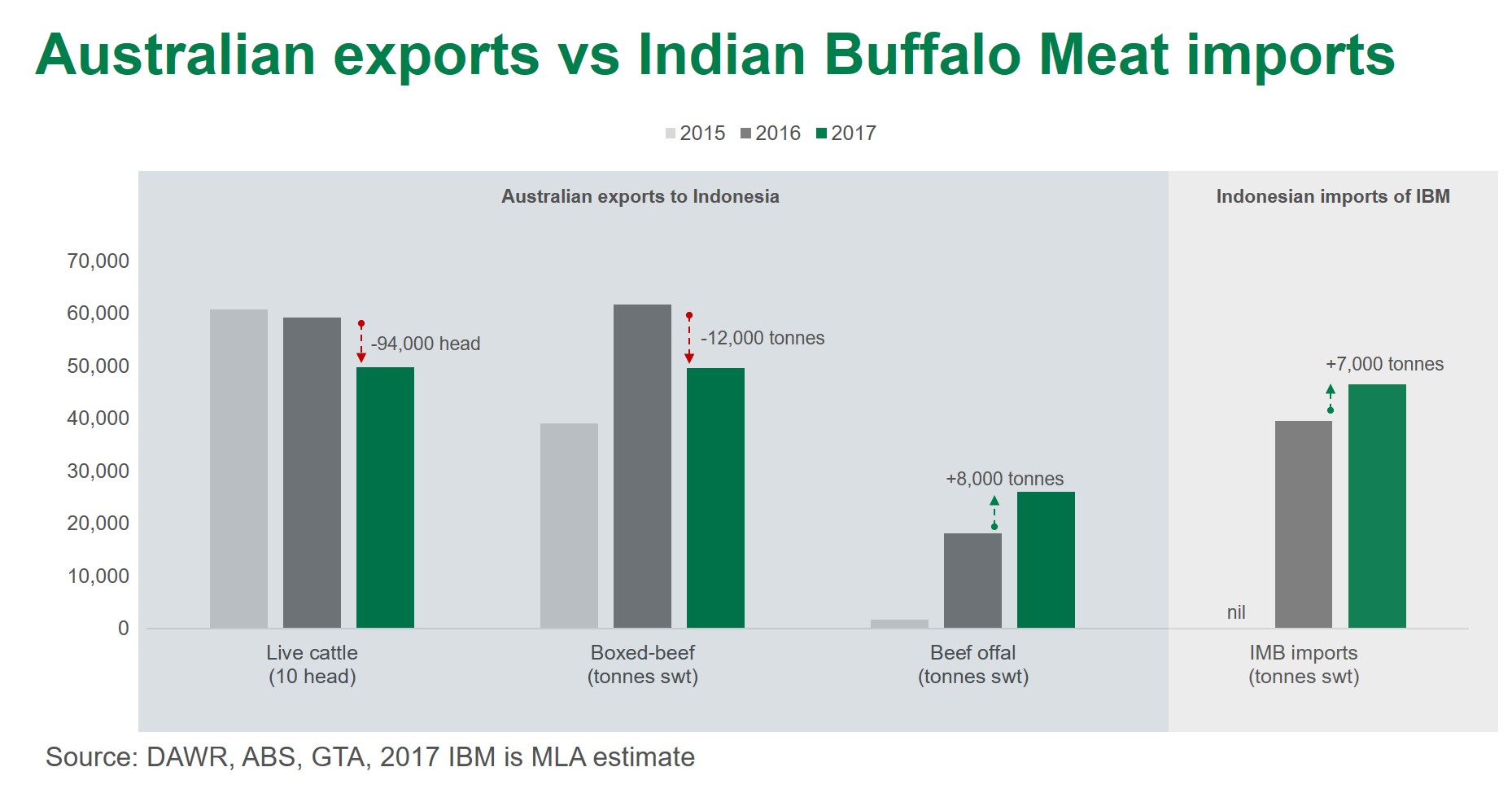 Indian buffalo meat undercuts imported and locally slaughtered beef and has penetrated wet markets in the greater Jakarta region – where about 70% of beef from Australia's feeder cattle exports are ultimately consumed. It is a cheap and ideal substitute for beef in many Indonesian dishes, making it popular among small meat manufacturers and foodservice operators.
Indian buffalo meat attracts consumers and further processors, seeking the cheapest available product on the market, and it is often blended with fresh beef in wet markets to reduce overall purchase costs. Subsequently, it has had a major impact on Australian manufacturing beef exports to Indonesia, which were the bulk of the boxed beef trade in 2016 but more than halved last year to just over 15,000 tonnes swt.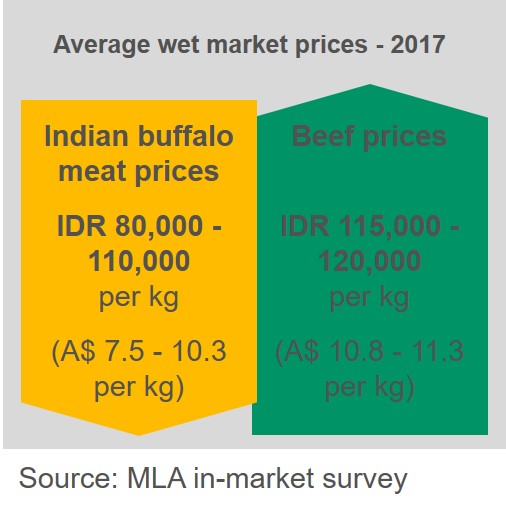 Some segments sheltered
While manufacturing beef and cattle exports to Indonesia have faced headwinds, some segments have shown growth. Boxed beef primal exports in 2017 lifted 35% year-on-year, to 34,000 tonnes swt, underpinned by increased shipments of blade, brisket and outside.
Further supported by the relaxation of cut restrictions and reduced slaughter of imported cattle (and decline in local offal production), offal exports to Indonesia lifted 44%, to 26,000 tonnes swt in 2017.
Indian buffalo to ramp up for Ramadan
The first shipment of Indian buffalo meat for 2018 is expected to arrive prior to Ramadan and Idul Fitri (15 May – 16 June), in anticipation of increased demand over religious festival period. The Indonesian government, through distributors, aims to increase the presence of Indian buffalo meat beyond Greater Jakarta, to wet market operations, BULOG retail shops, and other sectors across the country.
Click here for the latest:
More information
Valeska Valeska
MLA Country Manager – Indonesia
vvaleska@mla.com.au
Join myMLA today
One username and password for key integrity and information Systems (LPA/NVD, NLIS, MSA & LDL).
A personalised online dashboard that provides news, weather, events and R&D tools relevant to you.
Customised market information and analysis.
Already registered for myMLA?